You deserve a bigger slice!
Join us for our next information webinar on Tuesday 26 February 2019 at 7.30pm
Learn how easy it is to start your own travel business, do what you love, receive the support you need while earning what you deserve!
All attendees are strictly confidential.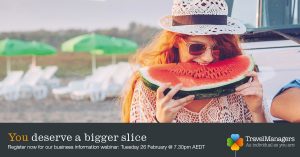 Over 550 personal travel managers are already part of the TravelManagers family. They enjoy the freedom and flexibility of running their own business their way, with the full security of being in partnership with TravelManagers. Becoming a personal travel manager could be just where you need to take your career.
Earn. Travel. Live. More