Not ready to give up on your travel career or the industry you love?
Looking for a new home that provides security for you and your clients?
We recently hosted our first interactive panel of travel industry professionals to discuss opportunities to begin your journey to recovery.
Attendess learnt how we can help you move your talent to mobile and run your own travel business.  With the backing of the travel industry's largest, award-winning mobile network, continue to do what you love, receive the support you need and have the winning career you deserve.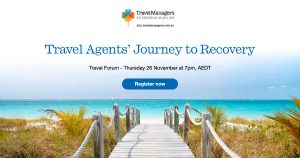 Watch this space for our next information travel forum
TravelManagers offers you and your business comprehensive support with:
Marketing
Fares & Ticketing
Operations & Finance
IT – latest & superior technology
Business coaching, mentoring & support
Induction & ongoing systems, product and industry training
Over 540 personal travel managers have continued to be a part of the TravelManagers family during 2020.   The network has been able to work on their businesses, continue to make bookings and be fully supported throughout.They enjoy the freedom and flexibility of running their own business their way, with the full security of being in partnership with TravelManagers.
We are here to help you relaunch your travel career.
*All attendees are strictly confidential.  If you wish to remain anonymous during the forum, please amend your Zoom name by first name and select audio only.   You will also have the opportunity to ask questions via audio or through the chat box at the end of the presentation.
Map your Journey to Recovery