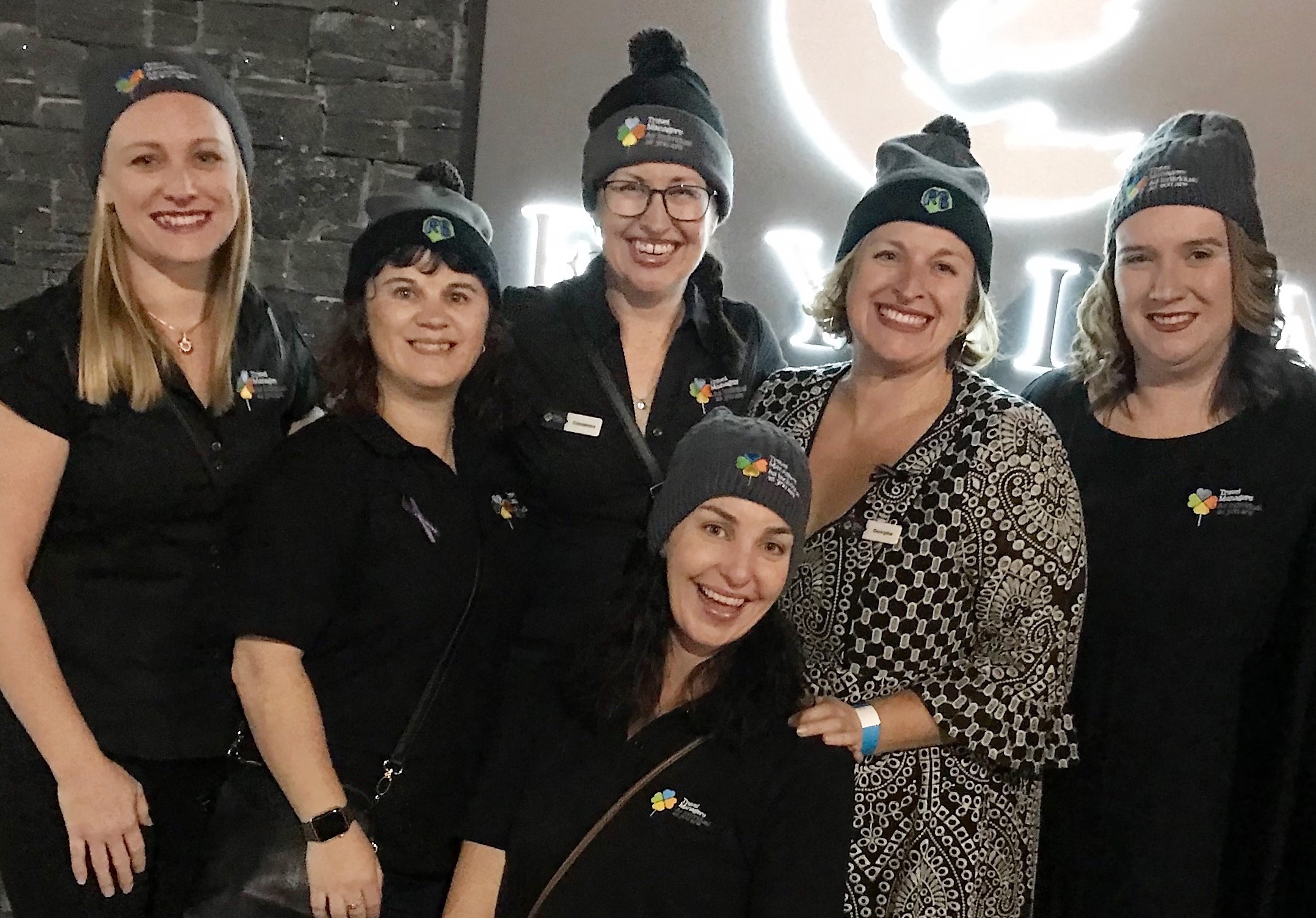 Personal Travel Manager's Cancer Fundraiser a Family Effort
Holiday packages, gift hampers and jewellery were all up for grabs at the Beanies for Brain Cancer fundraising event, which was held in Victoria Point, Queensland, in June.  The event, supported by Elysium Restaurant and Bar (who provided the venue) and TravelManagers, was organised by personal travel manager (PTM) Erin Ross and her children, Maia and Ryley, with the support of other PTMs, both locally and around Australia who either assisted with the event or donated to the fund.
The Ross family found themselves involved raising funds for brain cancer research as a result of their own experience with the disease, losing their husband and dad, Matt, four years ago, just eighteen months after his diagnosis.
"We need to find a cure for brain cancer because at the moment there is little hope for someone who is diagnosed, and it is the biggest killing cancer of young people in Australia," Erin explains.
The family was inspired by the success of Carrie Bickmore's and Mark Hughes' Beanies 4 Brain Cancer initiatives and decided to create their own TravelManagers beanie to raise further funds for the cause, selling them to friends and family, the local community and throughout the TravelManagers network to other PTMs and clients.
This year, they also added a second beanie to the range, thanks to the efforts of the youngest member of the family, Ryley, who was inspired by his sister's fundraising efforts through the sale of handmaid bead angels that she began making when her father was sick.
"Ryley designed a special beanie with a superhero theme to honour his Dad," says Erin. "Beanies were sent all around Australia and even across the ditch to New Zealand!"
"In 2017, we sold 168 TravelManagers beanies, whereas this year we sold 50 TravelManagers beanies and 150 Ryley Ross Super Hero beanies, and all profits from the beanie sales went to the cause."
Ryley's superhero-themed beanies were available for sale at the Beanies for Brain Cancer fundraising event, which also featured other fundraising activities including door prizes, raffles, jewellery and gift hampers.
Erin was very grateful to the local businesses who donated to the event, handing over a huge haul of prizes that included wine, gift vouchers, accommodation and clothes.
"We also gave away a three-night Royal Caribbean cruise and a twelve-night Thailand holiday, thanks to wonderful support from the travel industry."  "Singapore Airlines, Royal Caribbean International, Kamala Beach Resort (a Sunprime Resort), Phuket Marriott Resort & Spa, Merlin Beach, Outrigger Fiji Beach Resort, Plantation Island Resort, Trafalgar, Thai Airways & Tin Can Bay Tourist Park were all incredibly generous."
"Elysium Restaurant & Bar have been a big support for the past two years," Erin adds. "Not only did they co-host the event for the last two years, but they've also looked after catering, the bar, ticketing and entertainment."
TravelManagers coordinated the raffles and auctions on the night, and Executive General Manager, Michael Gazal, says the company is extremely proud of the efforts made by PTMs to support causes that are important to them.
"The amazing success of this fundraiser is testament to the Ross family's determination to contribute to the vital work of finding a cure for brain cancer."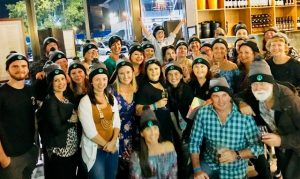 140 people attended the cocktail-style function, paying $75 per person for a ticket which included nibbles and drinks plus live entertainment from the duo "Musique".
Ten dollars from each ticket went directly to the Cure Brain Cancer Foundation, with additional $$ from auctions, raffles, donation tins, beanie sales and direct donations to the fundraising page from those who couldn't attend on the night.
Last year the Ross family raised a total of $13,000, and they intend to continue making and selling Maia's Angels.  Sales have previously helped pay for a water filter and ice machine at Redland Hospital's palliative care unit, and to support other families in need.
"Sometimes it's someone we read about on Facebook or who is running a crowdfunding campaign," she said. "It can be something as small as a supermarket or petrol voucher, but we know how helpful it can be to have a money for food and petrol for trips to hospital when someone is sick."
"We can't change what's happened," Erin says. "Matt wouldn't want us sitting around moping. We want to make him proud. We are not the first family who has been through this and we won't be the last."
Donations can still be made via the fundraising page: http://www.curebraincancer.org.au/my-fundraising/11174/elysium-and-travel-managers-2018-beanies-for-brain-cancer-fundraiser
To order Maia's Angels, visit https://facebook.com/maiasangels or www.maiasangels.com