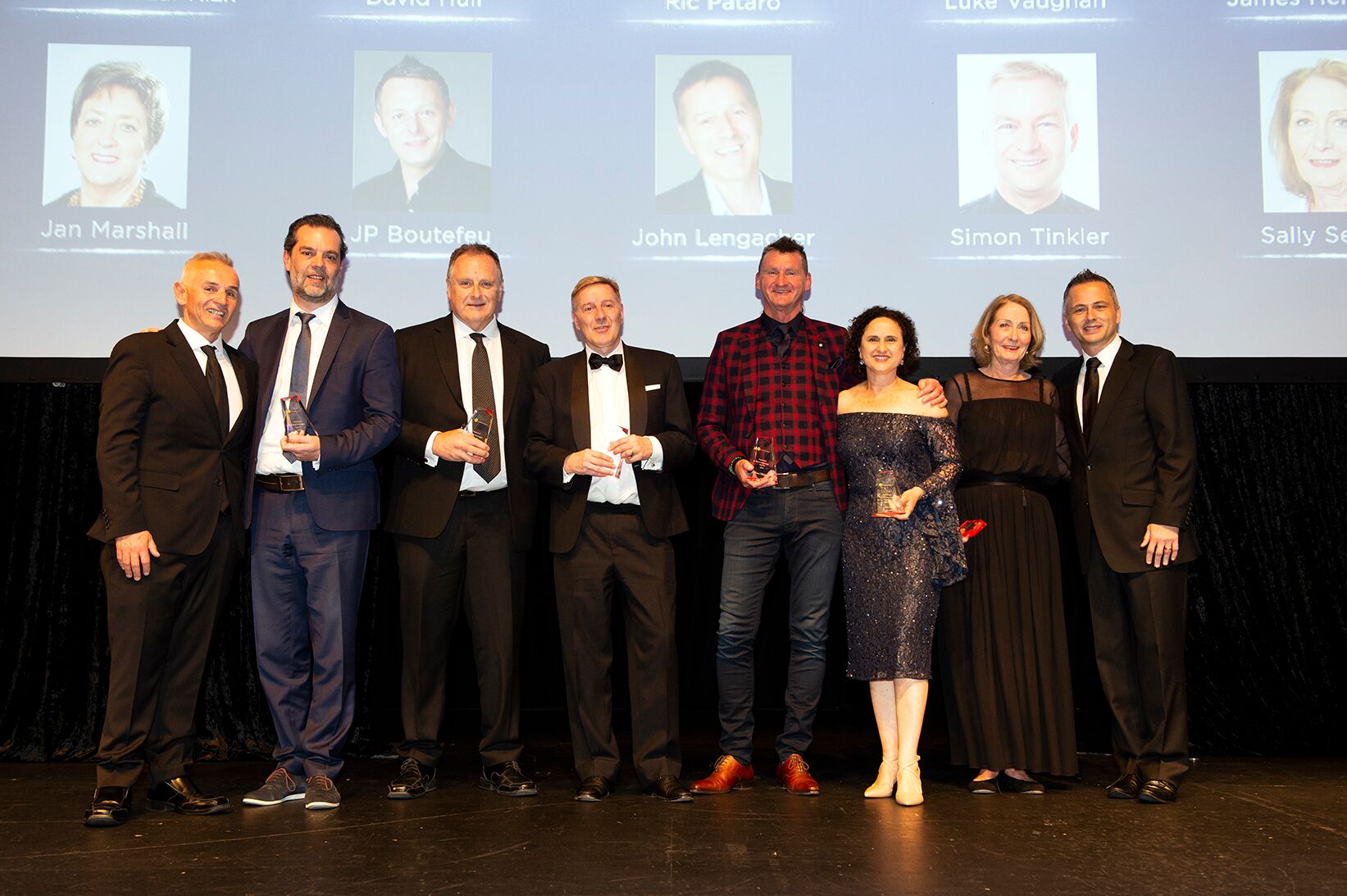 Awards Night Concludes TravelManagers' Annual National Conference
TravelManagers' annual National Conference ended on Sunday with a gala dinner and awards ceremony in the Crown Perth's Grand Ballroom: a glamorous, fun-filled evening in which personal travel managers (PTMs) and their partners were joined by representatives from the National Partnership Office (NPO) and suppliers to celebrate an inspiring weekend and honour the achievements of the past year.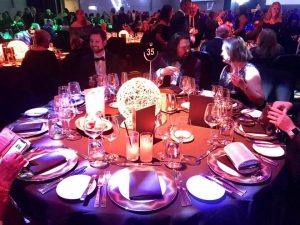 TravelManagers' Executive General Manager, Michael Gazal, says the evening was a great way to conclude the conference, which he described as "a massive success".
"This weekend has brought together a fantastic group of people who are passionate about travel and about delivering the best possible experience to their clients; that commitment has seen some remarkable results for many of our PTMs this year so it's great to be acknowledging them in a high-profile arena."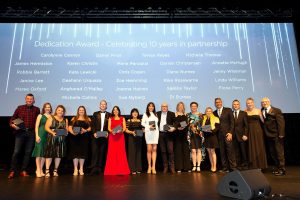 A total of 38 awards were presented in a variety of categories, including Top New PTM, Most Improved PTM and Top-Performing PTM, all of which were awarded by state and overall. An additional 26 PTMs received the Dedication Award, which celebrates ten years in partnership at TravelManagers.
"We now have a total of 64 PTMs who have achieved this milestone," Gazal notes, "which is a pretty sound endorsement of the partnership model's success."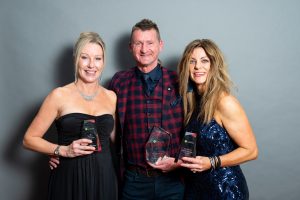 Among the PTMs who received the Dedication Award on Sunday night was James Hermiston, representative for Coorparoo, QLD, who was also named TravelManagers' Top Personal Travel Manager for Queensland and Northern Territory and overall Personal Travel Manager of the Year for 2019. He attributes much of his success to the loyalty of his repeat customers, many of whom return year after year and refer their friends.
"James has spent the last ten year assisting his clients to fulfil their holiday dreams, and in the process has built a successful business that allows him to share his love of travel," says Gazal.
Rachel Portelli, who is TravelManagers' representative for Aberfeldie, VIC, was the winner of the 'Choice Award' for 2019, as chosen by the PTM network. The award recognises an individual PTM for their willingness to help their colleagues, their professionalism, their dedication to upholding the TravelManagers brand and their contribution to the development of TravelManagers' unique culture.
"I have spent more than fifteen years working in an industry that I love," she says. "I'm passionate about providing my clients with an exceptional level of service and continuing to build and expand my knowledge, and I feel privileged to be part of a company that is focused on making this possible."
This year's winner of the 'Recognition Award' was Sue Wright, representative for Mackay Harbour, QLD. Wright was chosen by the NPO team for the award, which goes to the PTM who always adheres to policy and procedure, engages with the business and other PTMs and is considered all-round 'good guy' – an accolade made more impressive by the fact that she only joined TravelManagers a little over a year ago after a three-year hiatus from the travel industry.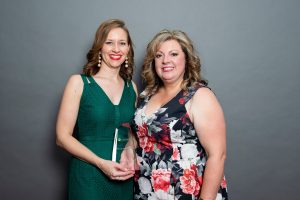 "For me, it's about being present and really connecting with people," Wright explains. "If I can help in any way to build a family of fantastic PTMs that I can support and inspire to be successful in their own business, that to me is truly fulfilling!"
New for this year is the 'Top PTM Website', awarded to Kim Mason, representative for Gymea Bay, NSW, for her Snow Safari family ski holiday business, while the 'Success in Marketing' award, was won by Annette Fyfe, representative for Victoria Point in Queensland. As well as the PTM awards handed out over the course of the evening, suppliers and NPO team members also received recognition for their achievements over the past year, including a new award for 'Top Local Sales Executive' in each state as voted on by the PTMs in those states.
Erin Ross, representative for Mount Cotton, Queensland, was the worthy recipient of TravelManagers' Spirit Award, which Gazal describes as epitomising everything TravelManagers stands for.
"Erin lost her husband, Matt, four years ago to brain cancer, and she and her family have thrown themselves in to raising funds for brain cancer research as a result of their own experience with the disease. The Spirit Award is given each year to someone who lives, breathes and reflects the heart and soul of TravelManagers: Erin does exactly that, and we couldn't be more proud of her."
Possibly the biggest surprise of the night was the arrival of guest speaker, retired Australian cricketer Adam Gilchrist, who is a patron of Ronald McDonald House, which was the local charity that TravelManagers chose to support at this year's conference.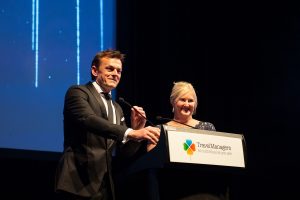 "Adam has been a dedicated patron of Ronald McDonald House for nearly twenty years," says Gazal. "Having seen first-hand what amazing support this charity provides for the families of sick children; it was a real pleasure to hear from Adam about his passion for this organisation and the incredible people who work together to make it a success."
At the conclusion of the awards section of the gala dinner, Gazal thanked all the attendees for their continued teamwork, dedication and commitment, praising them for the outstanding results achieved in another record year.
"Tonight's winners represent the pinnacle of what it is to be successful with TravelManagers," Gazal declared.  "Every one of you works incredibly hard to provide outstanding service, and I look forward to celebrating this year's achievements with you next year in Hamilton Island."
The complete list of winners is as follows:
Dedication Award "celebrating 10 years in partnership": Carolynne Cannon, Daniel Price, Teresa Reyes, Michelle Thomas, James Hermiston, Karen Christie, Maria Pandalai, Darren Christensen, Annette McHugh, Robbie Barrett, Di Burney
New Personal Travel Manager WA/SA: Stacey Lekias
New Personal Travel Manager VIC/TAS: Lisa Phillips
New Personal Travel Manager QLD/NT: Leah Hughes
New Personal Travel Manager NSW/ACT: Dom Cannon
New Personal Travel Manager 2019: Stacey Lekias
Top PTM Website 2019: Kim Mason
Partner Supplier 2019: Hoot Holidays
Most Improved PTM WA/SA 2019: Lucrezia Caruso
Most Improved PTM VIC/TAS 2019: Jan Marshall
Most Improved PTM QLD/NT 2019: Frances Cream
Most Improved PTM NSW/ACT 2019: Alicia Clark
Most Improved PTM National 2019: Jan Marshall
Top Local Sales Executive WA/SA 2019: Neil Saunders
Top Local Sales Executive VIC/TAS 2019: KJ Slater
Tops Local Sales Executive QLD/NT 2019: Cam McDonell
Top Local Sales Executive NSW/ACT 2019: Helen Eves
Supplier Choice Award 2019: Erin Beckford
Recognition Award 2019: Sue Wright
NPO Support Team Member Award 2019: Tania Myles
Top Personal Travel Manager WA/SA 2019: Sally Seward
Top Personal Travel Manager VIC/TAS 2019: David Hull
Top Personal Travel Manager QLD / NT 2019: James Hermiston
Top Personal Travel Manager NSW/ACT 2019: Ric Pattaro
Choice Award 2019: Rachael Portelli
Denise Dean Advocate Award 2019: Melanie Richardson
Success in Marketing Award 2019: Annette Fyfe
Spirit Award 2019: Erin Ross
Personal Travel Manager Top 10: Julianne Gazal-Rizk, David Hull, Ric Pattaro, Luke Vaughan, James Hermiston, Jan Marshall, JP Boutefeu, John Lengacher, Simon Tinkler, Sally Seward
Personal Travel Manager of the Year 2019: James Hermiston