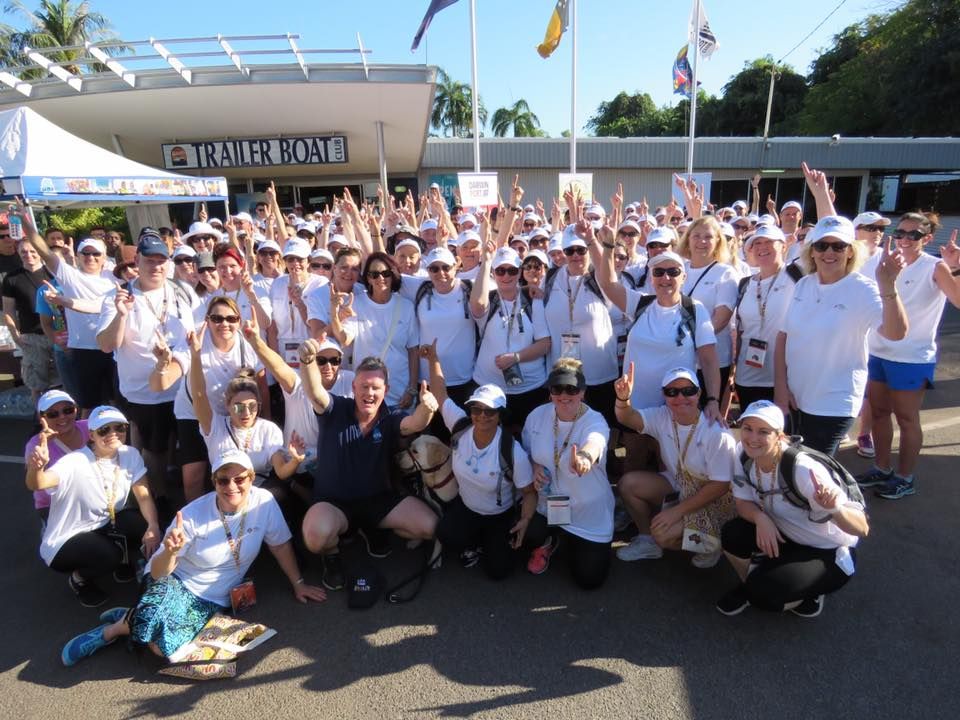 TravelManagers' Conference Community Event Raises Thousands
TravelManagers' Conference community event raises thousands for local not-for-profit Day Three of TravelManagers' annual National Conference, which was held in Darwin last weekend, saw participants step away from their conference venue for the morning and instead hit the Darwin waterfront to participate in "Steps Towards Capability". The event was held by "Helping People Achieve" (HPA), a unique, Northern Territory-based, not-for-profit organisation that provides services to people with physical and intellectual disabilities in the Darwin and Palmerston regions. They currently support 68 people with employment and 40 people in accommodation and are 2016 winners of Telstra's Small Business of the Year Award.
TravelManagers' Executive General Manager, Michael Gazal, says partnering with a local charity to help raise both awareness and much-needed funds has become an integral part of the company's national conference agenda each year. "Since the community charity activity was introduced at our Fiji conference in 2012 we have worked with some incredible people over the past six years, who are achieving amazing things, and usually with very tight budgets. This year our partnership tied in really well with our conference theme by giving our people the opportunity to act as ONE in helping out with HPA's fundraising event."
Conference attendees were transported by bus to the fun walk start line at Darwin's Trailer Boat Club and joined members of the Darwin community and disabled community in a seven-kilometre fun walk long Darwin's picturesque East Point Reserve and beach, which has a lot of Australian military history significance, followed by "Steps Towards Capability" expo where participants had an opportunity to learn about the work of local disability service providers. "It was a great choice of event for us because it was something that everyone could get involved in," says Gazal. "Those who didn't want to do the walk were able to help out with aid stations along the route, and at the conclusion of the walk, we were also able to participate in a range of art, dance, music and sports workshops with our new friends."
TravelManagers also created a team fundraising page where conference participants, supplier attendees and friends and family could make donations towards HPA in support of the work they carry out in their community. Participants could also choose to set up their own fundraising pages if they wished to carry out further fundraising on an individual basis. The funds raised by the Steps Towards Capability event will help HPA to continue their valuable work, providing supported employment to people with a disability. They do this because their vision is that through employment and support, people with disabilities can develop confidence, independence and life skills to lead a fulfilling everyday life. TravelManagers' Nicole Edgar, representative for Narre Warren South in Victoria, has taken part in TravelManagers' community events for the past six years, and says giving back to differing charities and organisations to help those less fortunate than ourselves is one of highlights of her conference weekend each year.
"What a great way to start the day: a walk in the Darwin sunshine with some really great people, play some chair volleyball, take part in a dance workshop and create some colourful works of art – what more could we ask for? It was such a fun event, and knowing that we've contributed financially to their ongoing work was the icing on the cake!"
At the end of the morning, HPA's CEO, Tony Burns, farewelled the TravelManagers participants and thanked them for their enthusiastic involvement in what was a very successful event for the organisation. To date, TravelManagers' involvement in Steps Towards Capability has raised in excess of $7,598, with final figures still being assessed. "There's a lot of work by a lot of people that goes into planning each year's national conference, but choosing an organisation with whom to partner for our community event is one of the highlights," says Gazal. "There are so many great organisation out there that it can be a really tough choice, but ultimately, it's very rewarding for all involved