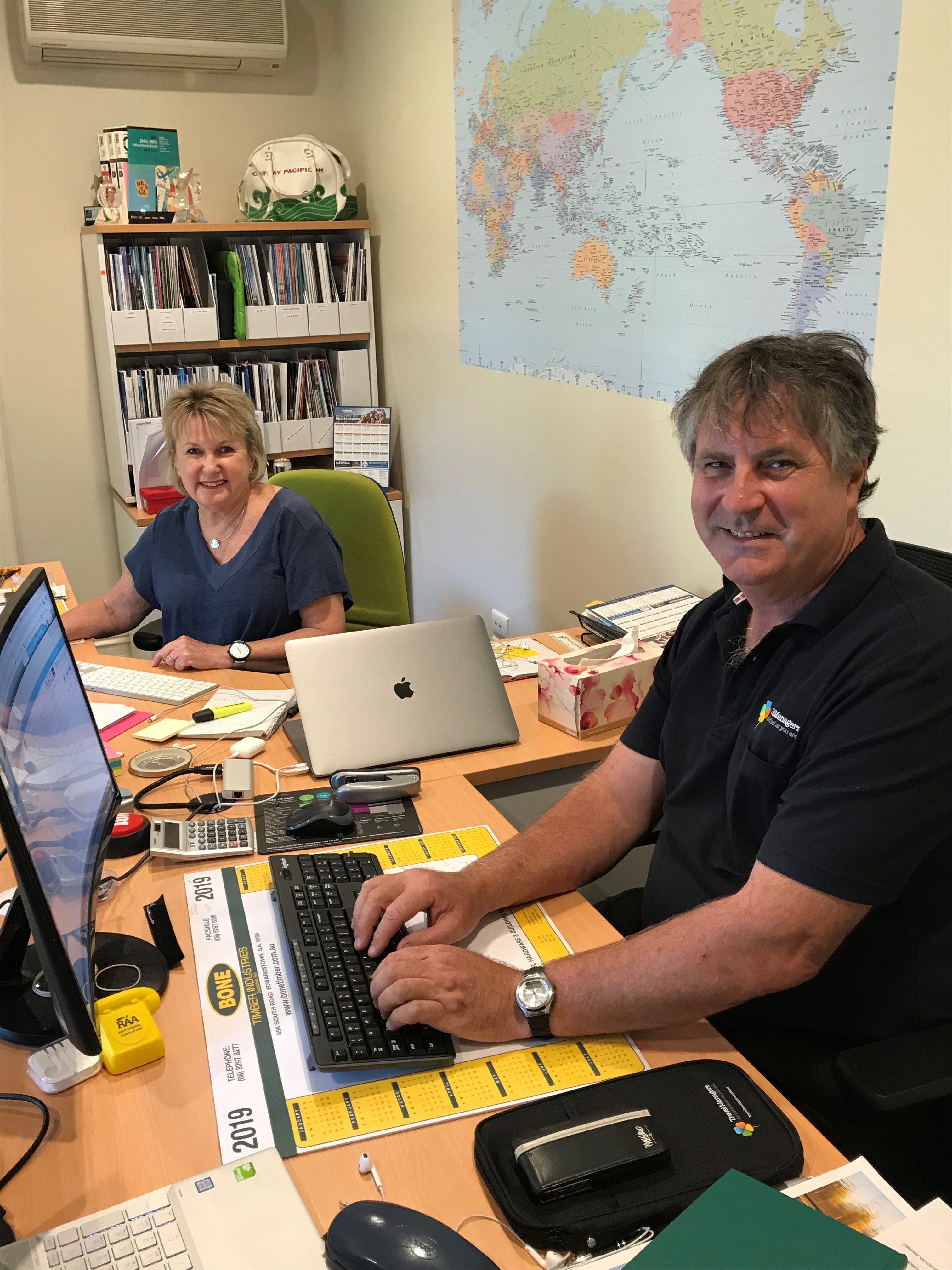 Industry Veterans Take to Home-Based Like Ducks to Water
PUBLISHED: Karry-On, ETBnews. Travel Daily, e-Global Travel Media
Change can be challenging; confronting even, but when done well, it can also be extremely rewarding and empowering, as two of TravelManagers' newest recruits have recently discovered.
Jan Chappell and Micheal Puttner are travel industry veterans, having worked for the same Adelaide-based travel company for 47 years and 16 years respectively.  They worked side by side for many years, so when the time came to consider a change in direction, it was only natural that they would take a leap of faith and join TravelManagers together.
"Jan and I get on well together," Puttner explains.  "We bounce ideas off each other, and our strengths complement each other, so when we both decided that we were ready for a change, it made sense to continue sharing the same office space."
Chappell agrees, adding that their new arrangement, which saw her convert a granny flat into office space, made the transition from large organisation to stand-alone operator more comfortable.
"We've been working side by side for 16 years – we've learned from each other and work well together: now we each have our own individual businesses so we're free to do our own thing but can continue to support each other through this next phase in our careers."
Chappell says she was also initially concerned about having to learn new systems but overall found TravelManagers' comprehensive induction process to be very helpful.  The induction held over three days in the company's National Partnership Office (NPO) in Sydney, covered all the systems the new PTMs would be using and gave them the opportunity to meet their key people in every department, including finance, marketing and technology.
For Puttner despite some initial apprehension around the prospect of learning new systems and processes, the transition was a smooth one, helped greatly by the level of help and support that's been readily available from the NPO and his fellow PTMs.
"There's an amazing feeling of being part of a 'family'," Chappell adds.  "Everyone is so supportive and happy to answer my questions.  We had a lot of information to absorb at the beginning, so it's reassuring to know that help is just a phone call away, and there are refresher courses available if I need them."
Continuing to upskill is a key priority for both new PTMs, along with raising their profile with potential clients.
"As well as completing some follow-up training on both Amadeus and Tramada, I'm looking forward to expanding my product knowledge by attending cluster meetings and participating in famils," Puttner says, "and I'm planning to maintain and personalise the content on my TravelManagers website.
TravelManagers' Executive General Manager, Michael Gazal, describes the successful transition of Puttner and Chappell to the TravelManagers family as "a powerful demonstration that it's never too late to make a change."
"Making a significant career change when you're so well established in your existing employment over an extensive period of time takes a certain amount of courage and determination," he explains.  "We work hard to ensure that new PTMs, regardless of how long they've been in the industry, have the best possible transition experience so that they feel supported and can hit the ground running.  That support comes from all areas of the business, particularly their fellow PTMs, who share the challenges and celebrate the successes of their colleagues."
For both PTMs, one of the most meaningful benefits of starting their new businesses has been the ability to work their own hours and at their own pace, in the environment of their choosing.
Chappell and Puttner both agree, "It can be difficult to turn off from the temptation of working all hours of the day and night, however we love having the flexibility to manage our own time, seeing clients when it suits us and giving them the level of service, they deserve."