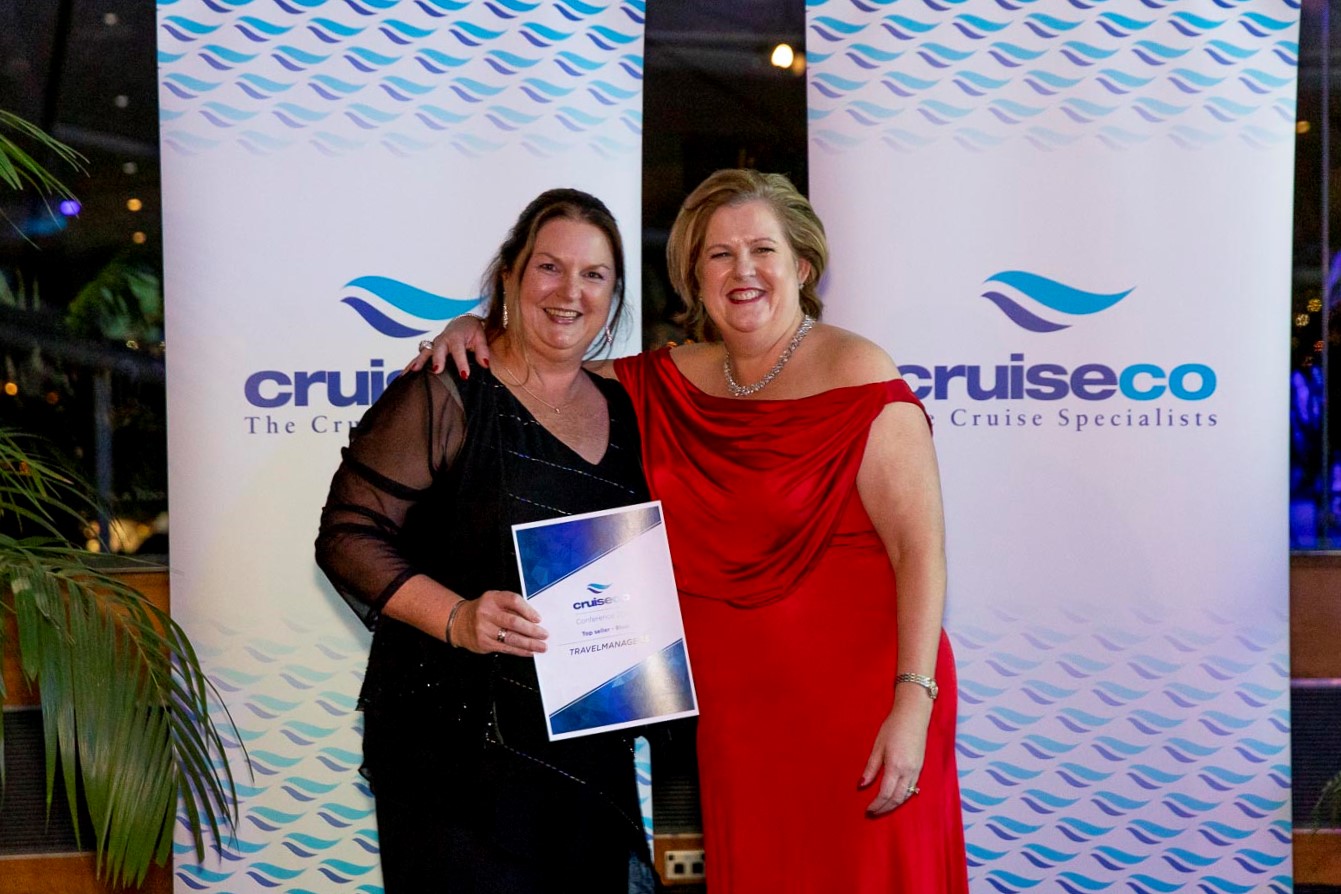 Record Awards Haul for TravelManagers at Cruiseco Conference
PUBLISHED: ETBNews, KarryOn, Travel Daily, TravelTalk, Travel Weekly
When Cruiseco's annual national conference took place in Auckland the weekend before last, bringing together more than 250-member travel agencies from across Australia and New Zealand, one of the highlights of the three-day event was the Awards Night, which was held within the grand setting of the city's War Memorial Museum. TravelManagers was represented at the awards by personal travel manager (PTM), Carolynne Cannon, who accepted three major awards on the company's behalf.
According to Executive General Manager, Michael Gazal, the three awards represented a record achievement for TravelManagers, in that it was the highest number of awards the company has received during its six-year association with Cruiseco.
"The cruise market an important component of our business, and Cruiseco is the Southern Hemisphere's largest and broadest distributor of cruise product," Gazal explains, "so having our commitment to excellence in selling cruise holidays recognised and rewarded in this way is very satisfying."
Cannon, who is representative for Mindarie in WA and was attending her first Cruiseco conference on behalf of TravelManagers, says she was thrilled to be kept busy collecting various awards on behalf of her colleagues and organisation, of which the first award was Top 5 in Sales – 2018.
"From the stunning location of the awards night, on a hilltop in Auckland Domain overlooking the city's beautiful harbour, to the excitement of TravelManagers picking up three major awards, it was a fabulous evening from start to finish," she reports.
TravelManagers' first award of the evening was for Top 5 in Sales – 2018, the fifth consecutive year in which TravelManagers has received this accolade. The awards haul was quickly added to in the form of Top Seller in River Cruises and Top Seller of the Year – Home Based – which was won by Terrigal, NSW-based PTM, Angharad O'Malley for the second year running.
""I was certainly kept busy accepting these awards," Cannon confirms with a smile. "It was a fantastic experience and a real honour to represent both TravelManagers and my fellow PTMs."
The Awards evening was just the start of a three-day programme that also included an Exhibition Day which Cannon describes as "highly informative and invaluable in growing my cruise business."
"We were able to choose from a variety of 20-minute presentations, ranging from the latest cruise-line updates to a number of workshops that provided hints and tips on selling Cruiseco product and navigating their new booking system," she explains. "We were also able to visit individual cruise line booths for updates on product information and a chance to chat with the cruise specialists themselves."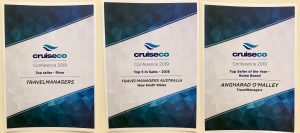 Gazal says TravelManagers' success at this year's Cruiseco awards serves to further cement the company's commitment to excellence in the cruise sector.
"As well as repeating the success of previous years in two major award categories, this year we added our first-ever win in the Top Seller – River category," he says. "Our intention is to build on the momentum we have thus far established, and we're already eagerly anticipating next year's conference."
Cruiseco concluded this year's annual conference by announcing the venue for next year's event: six nights aboard the cruise ship, 'Voyager of the Seas', departing from and returning to Sydney, with the award night to be held on the third night in Hobart, and a cruise-line exhibition planned in Melbourne on the fourth day of the voyage. Given TravelManagers' success at the awards in 2019, it seems highly likely that Cannon and her fellow PTMs will be happy to attend next year's event as well