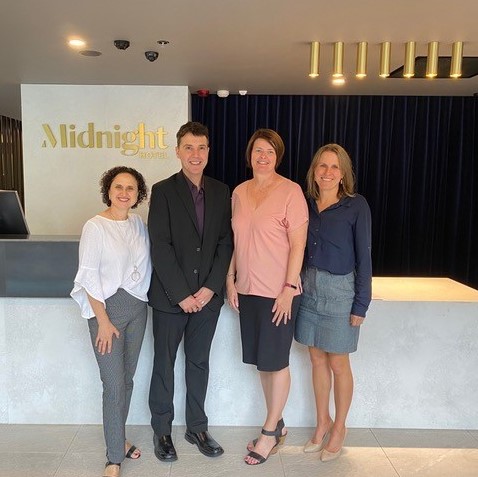 Q is for Quality on Q-Suites Famil with Qatar Airways
Qatar Airways recently offered a day trip famil from Sydney to Canberra as a unique opportunity to experience their newly-delivered A350-1000 passenger jet, and more specifically, the airline's fabled business class 'Q-Suites'. Three of TravelManagers' New South Wales-based personal travel managers (PTMs) were among the eight travel agency participants who stepped aboard.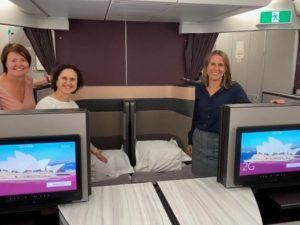 Julianne Gazal-Rizk, who is TravelManagers' representative for Willoughby, NSW, was among the guests on the famil and says she was very impressed by her experience.
"Experiencing the 'Q-Suites' has totally sold me on this product for my business class clients," she explains. "It is so private for single travellers, and the fact that couples can convert the two middle seats to a double bed is amazing. Even better, groups of four can dine together in the 'quad' suite and still have privacy when required, thanks to privacy panels which can be closed."
Julianne was accompanied by Lindy Hill, TravelManagers' representative for Fairlight NSW, who says she was keen to participate in the famil because she wanted to experience Qatar Airways' business class suites and service.
"I have several clients who like travelling in business class with Qatar Airways, so I wanted to experience the product for myself. Their product and service both have a strong reputation, and the famil confirmed that this reputation is deserved."
The group had an early start to their day, checking in at Sydney International Airport for the short hop to Canberra. They were then transferred to the brand-new Midnight Hotel in Braddon for a site inspection and brunch.
"The hotel is in a great location, near many shops, restaurants and cafes, and is suitable for both leisure and business travellers," Lindy reports. "It only opened last year, so it's very modern and beautifully styled."
After a short stop in Canberra, the group returned to the airport for their return flight to Sydney and another taste of the much-admired Q-Suites.
"I thought the Q-Suites were excellent," Lindy confirms. "They were very spacious, with large television screens and a variety of seating configurations. We didn't experience any meal
service but the staff provided very good customer service and were very friendly."
"The cabin crew and ground staff were exceptional in every way, and although the flight was too brief for us to experience their inflight dining, the hospitality was of the highest standard," adds Julianne.