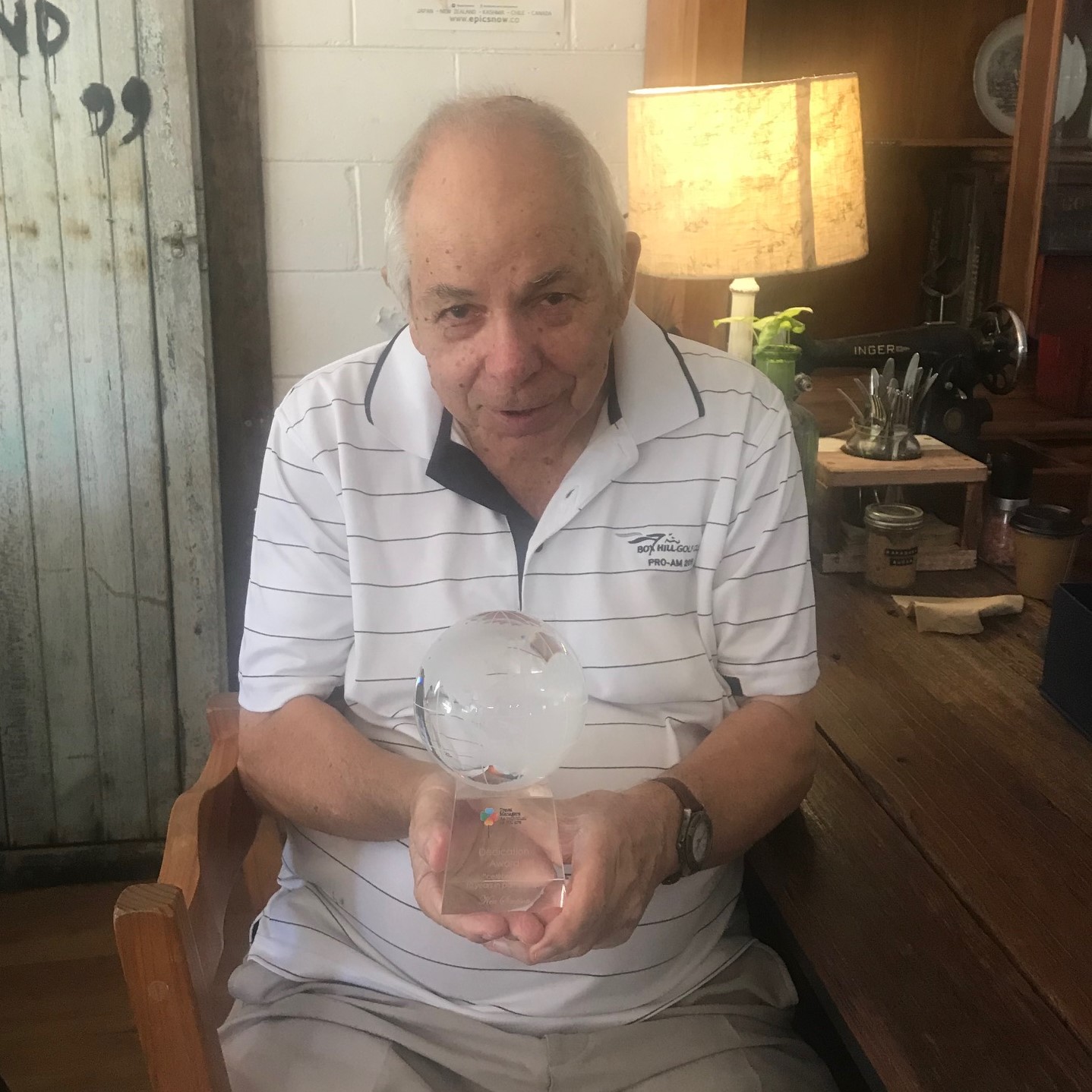 Second Attempt at Retirement for Much-Admired Personal Travel Manager
As legendary golfer Ben Hogan once asserted, "the most important shot in golf is the next one." It is a truism that can be applied to much in life, and one which personal travel manager (PTM) Ken Simpson is surely keeping in mind as he considers the shape of his pending retirement from the travel industry.
Having recently turned 77, Ken has decided the time has come to retire from his role as TravelManagers' representative for Caloundra, Queensland, calling time on a 25-year profession in the travel industry.
"This is actually not my first retirement," he notes with a smile. "At 52, I retired from a 33-year career in the Public Service sector and was faced with the predicament of what I would do next. I settled on the travel industry, and hence began a second and very satisfying career."
Ken ran his own highly successful agency for nine years, a move which proved to be both commercially fruitful and an excellent learning experience. Although he claims not to have been the greatest of businessmen, he says his travel expertise and his manner with people were the keys to his success.
After selling the agency, Ken became a locum of sorts, and it was during this time that he was introduced to the concept of TravelManagers.
"At the time my wife was seriously ill and the independence afforded by the TravelManagers model gave me the time to care for her and maintain my interest in the travel industry without the pressures of sales targets and operational issues," Ken explains.
It was a decision that Simpson considers to have paid dividends many times over, not just from a professional perspective but also for the second family which the TravelManagers culture has provided.
"Since joining the TravelManagers family, I have been constantly in awe of the knowledge of individual PTMs and their ingenuity, perseverance and inventiveness to make a success of their business. This, of course, is not possible without the invaluable assistance of National Partnership Office (NPO) staff and the enthusiasm of other PTMs to share their expertise and business acumen willingly."
"When my wife passed away, the heartfelt messages I received from colleagues were not just words of sympathy but genuinely came from the heart," he adds.
Under the TravelManagers model, every PTM is assigned a local state-based Business Partnership Manager (BPM) who is tasked with providing support on every aspect of the business, from developing sales and marketing strategies to assisting with supplier relationships. In Simpson's case, this role sat with Queensland BPM, Karen Dowling.
"Ken has been an absolute pleasure to work with," she reports. "He is very passionate about travel and looking after his clients, providing them with the level of service their loyalty deserves. He is always there to offer help if anyone needs it and has made the massive effort of driving to Melbourne each year to participate in our charity golf day."
Ken insists that his annual 4,000-plus kilometre road trip to attend TravelManagers' annual charity golf tournament, which is the stuff of legends within the TravelManagers community, will continue despite his retirement from selling travel.
"The day is really well run, the company is always good, and it is a lot of fun – irrespective of my standard of golf on the day," he explains. "It also provides me with the chance to catch up with family, colleagues and friends, both on the way to Melbourne and in Melbourne itself."
Retiring at the age of 77, Ken says he has no intention of slowing down now. Working on his golf game is just one of the activities Simpson intends to continue with as he moves into the next phase of life, along with reading and volunteering at his local school.
"I'm also looking forward to seeing more of friends near and far, which should keep me out of mischief," he predicts, adding that future travel is likely to be on the cards when global conditions allow it.
Ken says his love of travel has provided some of the many highlights from his time with TravelManagers, especially the travel he has undertaken with his son and daughter since his wife's passing.
"Another experience that I will treasure for the rest of my days was my visit to Flanders and the battlefields of WW1. The Last Post at the Menin Gate was so moving, and the trip afforded me the opportunity to locate my uncle's name on the Tynecote Memorial. This was particularly poignant because I was able to describe the whole scene to my blind brother."
Fellow Sunshine Coast-based PTM Kylie Gretener joined TravelManagers in June 2012, four years after Simpson, and cites his patience and generosity as qualities she quickly came to value in her colleague.
"I will miss Ken's easy-going nature and his great travel stories, but I know I can still call him any time for a chat, some advice, or with a curly airfare  question when we are allowed to travel again."
Ken says he will miss the sense of community that has been such a key part of his time with TravelManagers – a sentiment that is echoed by other members of the TravelManagers family who all say they will miss his kindness and contagious sense of positivity.
"Integrity, a sense of fun, a passion for travel and a determination to ensure that every client has an unforgettable travel experience: these are among the many qualities that make Ken a delight to work with," according to Sandra Leslie, who provides Supplier Support from TravelManagers' National Partnership Office.
"Ken is very kind, capable, loyal and professional," Karen agrees. "He's a great family man, who's very close to his son and daughter. I know in retirement he will enjoy more golf, more road trips, spending time with his family and travelling more himself."
"I will miss his smiling face, easy-going nature, kindness and love of travel, but we will stay connected and catch up whenever I'm on the Sunshine Coast," she continues. "We had a lovely ten-year anniversary lunch together in 2018 at which he told me so many stories of his life, so I'm looking forward to hearing more stories from the next chapter of his life."