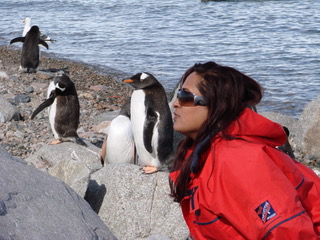 Fresh Start for TravelManagers' Freshest Recruit
Featured photo: A keen traveller herself, TravelManagers' newest PTM, Nishani Ganash, is excited to be returning to the industry she knows and loves.
Starting a new business in the midst of a pandemic may seem like a risky move – even more so when it involves an industry that has been particularly hard hit by COVID. But for Nishani Ganash, who has worked as a travel agent since 2002, diving back into the travel industry represents an investment in herself and an opportunity to return to doing what she loves.
"I have a long history in the travel industry," she notes, "having started with Flight Centre in 2002. I moved to Harvey World Travel in 2013, which then rebranded to Helloworld in 2015 – and there I remained until July 2021, when COVID made it impossible for me to continue."
It had been a long and happy career for Nishani, whose passion for the travel industry has endured. Although new to TravelManagers, she says the home-based network of personal travel managers (PTMs) had been known to her for a number of years.
"I already knew some of the other TravelManagers PTMs in my area, having worked with them in the past – it's a small industry!" she laughs. "When I started to look more closely at their business model, I realised it could provide me with the flexibility to work from home alongside an amazing support team, running my own business and being in control of how and when I work."
"TravelManagers were there for me at a very difficult time and my Business Partnership Manager (BPM) Karen Dowling is always just an email or phone call away and has been an amazing support."
Currently working part-time from her home in Springfield, QLD, Nishani describes her decision to join TravelManagers as an exhilarating opportunity.
"It's a little bit scary but also incredibly exciting; I love the level of control I now have in running my business the way that I want to. Travel is in my blood: the joy I find in making my clients' holiday dreams come true is what I live and breathe."
Nishani says she has been very impressed by the induction program conducted by TravelManagers' National Partnership Office, describing it as both thorough and welcoming. Although she is currently working in another industry while she establishes her new business, Nishani is confident that she will be ready to switch into a full-time travel career some time in 2022 as international travel starts to take off.
An enthusiastic traveller herself, Nishani is eagerly anticipating being able to revisit many of her favourite destinations.
"I am of Sri Lankan heritage, was born in Malaysia and have also lived in Singapore, London and Australia. I have been lucky to visit many other amazing destinations with my wonderful husband, and I'd love for my first trip when our borders do reopen to involve a round-the-world ticket to visit all my family who are scattered across the globe."
For now, Nishani is satisfied with her favourite hobbies: cooking, crochet, playing her baby grand piano and spending time with her favourite people. Long walks around her local lake have her well-prepared for the walking meetings which she is looking forward to joining with her fellow PTMs.
"They were the only travel group who were out doing things during the pandemic: walking, connecting, supporting each other. It's one of the things that most attracted me to the TravelManagers culture."
Nishani says she would highly recommend her TravelManagers experience so far to other agents considering a change or a restart.
"Don't be afraid: believe in yourself, invest in yourself and know that TravelManagers will have your back."