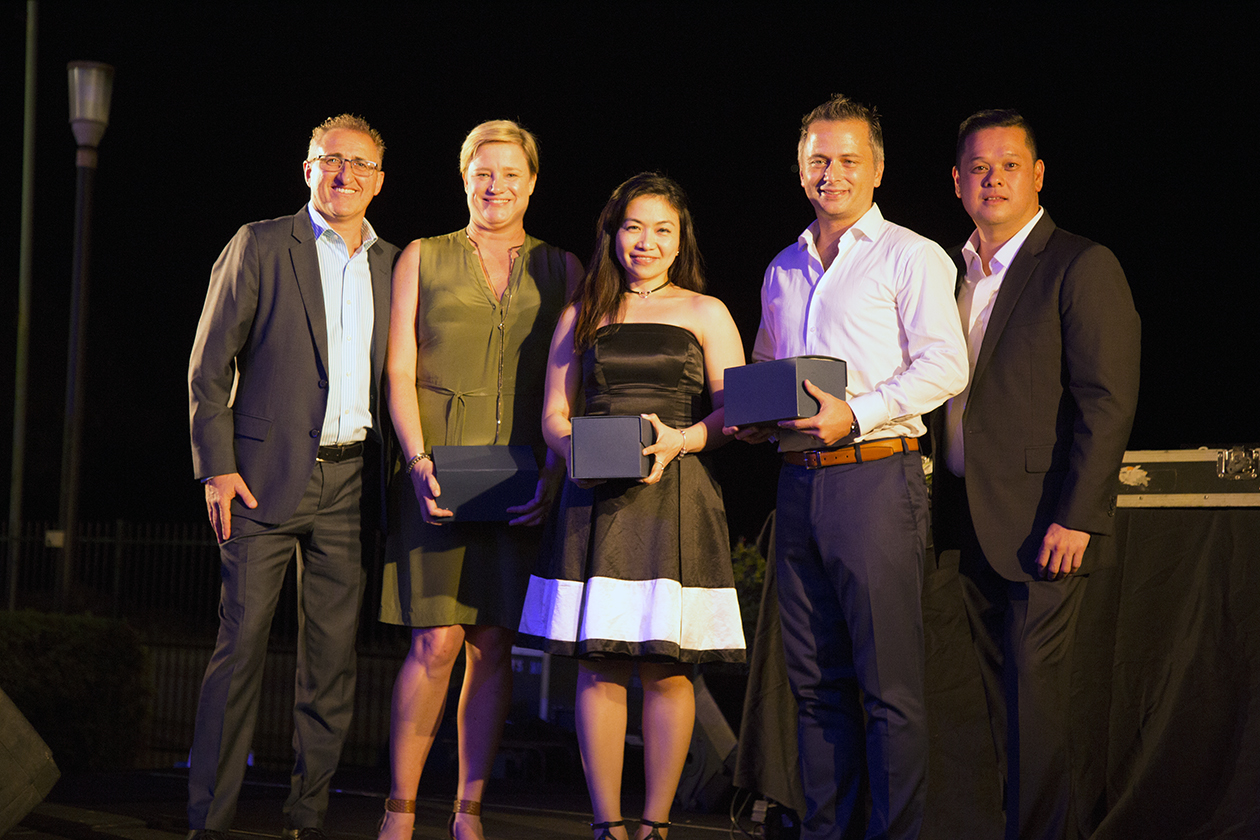 Personal Travel Managers Celebrate Contributions of National Partnership Office
At TravelManagers, behind every good personal travel manager (PTM) there is a team of dedicated people whose job it is to provide finance, marketing, technology and business support so that PTMs can focus on delivering the best possible service to their clients.  This year, as well as eleven PTMs who celebrate ten years with the company are three of those support staff, who have been alongside the PTMs every step of the way.
As TravelManagers' Executive General Manager, Michael Gazal explains, "Our PTMs work hard to build up successful businesses, but as a company we believe that it's also important to acknowledge the achievements and contributions of the people who work tirelessly behind the scenes in our National Partnership Office (NPO) to help make those businesses succeed."
One of these is TravelManagers' Operations Manager, Pru Gallagher, who joined the company as the main support person in the operations team: a role that included working with new PTMs to set up their businesses.  She also was responsible for managing the company's first seven national conferences, and has been in her current role overseeing the operations and training teams for almost two years.
"When I started in 2007 there were just over 30 PTMs to look after, and now we have more than 500," says Gallagher.  "I work with an amazing network of people from different walks of life and what I love most is that if a PTM needs help, either for themselves or for a client, they'll have dozens of offers from within the network within minutes."
For Tanyu Cilek, who, as TravelManagers' Finance and Commercial Manager, is also celebrating ten years with the company, maintaining a balance between ever-improving technology and connecting with PTMs on a personal level is an important focus.
"In a world where email and social media dominates, I like to pick up the phone for a good, old-fashioned conversation," Cilek explains.  "Our PTMs prefer to spend more time building relationships with their clients and less time on the phone or looking at their computer screens, and the same philosophy applies for us here at the NPO too."
The third ten-year veteran is Maria San Pascual, who has been part of the company's finance team throughout her time with them, and now works as Accounts Manager.  She says the focus of both her team and the overall company has always been on providing excellent service to stakeholders.
"The improvements made during my time in systems and processes has kept things interesting, but working with such a service-focused, dedicated team has been one of the highlights of my ten years."
TravelManagers has been operating for over ten years and Gazal believes with 21 PTMs celebrating a decade or more with the company, it's a strong endorsement the company's culture that NPO support staff are also reaching these milestones.
"Our business model is sustainable and offers good job security, but there's also an excitement factor that is driven by the growth and potential within the business," says Gazal.  "Our people have a strong belief in their fellow team members and they love working in an environment that encourages initiative."
Every year, the personal travel managers have the opportunity to formally recognise NPO team members whose support is considered to be outstanding.  This year's winners, who received their awards at TravelManagers' annual National Conference in Darwin, were Marketing Executive, Tania Myles, and Gary Jensen, who is responsible for the Tramada NextGen Help Desk.
Jensen's surprise and delight at receiving one of this year's awards is typical of the understated, no-fuss approach that NPO staff take to their work.
"I was shocked, to be honest, but also very flattered," he says.  "I don't know if you call what I do 'above and beyond': I just enjoy helping our PTMs out with their questions, and fixing up their bookings."
It was the support provided to PTMs in their respective areas of expertise, which motivated PTMs to identify with this year's winners explains Gazal.
From Myles' point of view, having the freedom and encouragement to conceive and implement new ideas is one of the most important factors in succeeding in her role.
"We don't operate under a system where it's assumed that one person has all the answers or expertise," she says.  "Some of our best ideas have come from casual meetings without agendas where we get together to come up with creative ideas and new projects."
As well as the enjoyment that comes from working in an environment that fosters creativity and open communication, one of the highlights for many staff is the opportunity to be of service outside of work hours.
"Our first community project was at a school just outside Nadi, and in Sydney we presented over 30 bikes to disadvantaged children," explains Gallagher, who says she is looking forward to rewarding her long service achievement with a holiday in the south of France.
Myles, who has been with TravelManagers for two years, says she knew the day she first walked through the door that the company would be a good fit for her.
"When you're surrounded by the right people, it builds your confidence, motivates you to challenge yourself, and ultimately brings out your best."