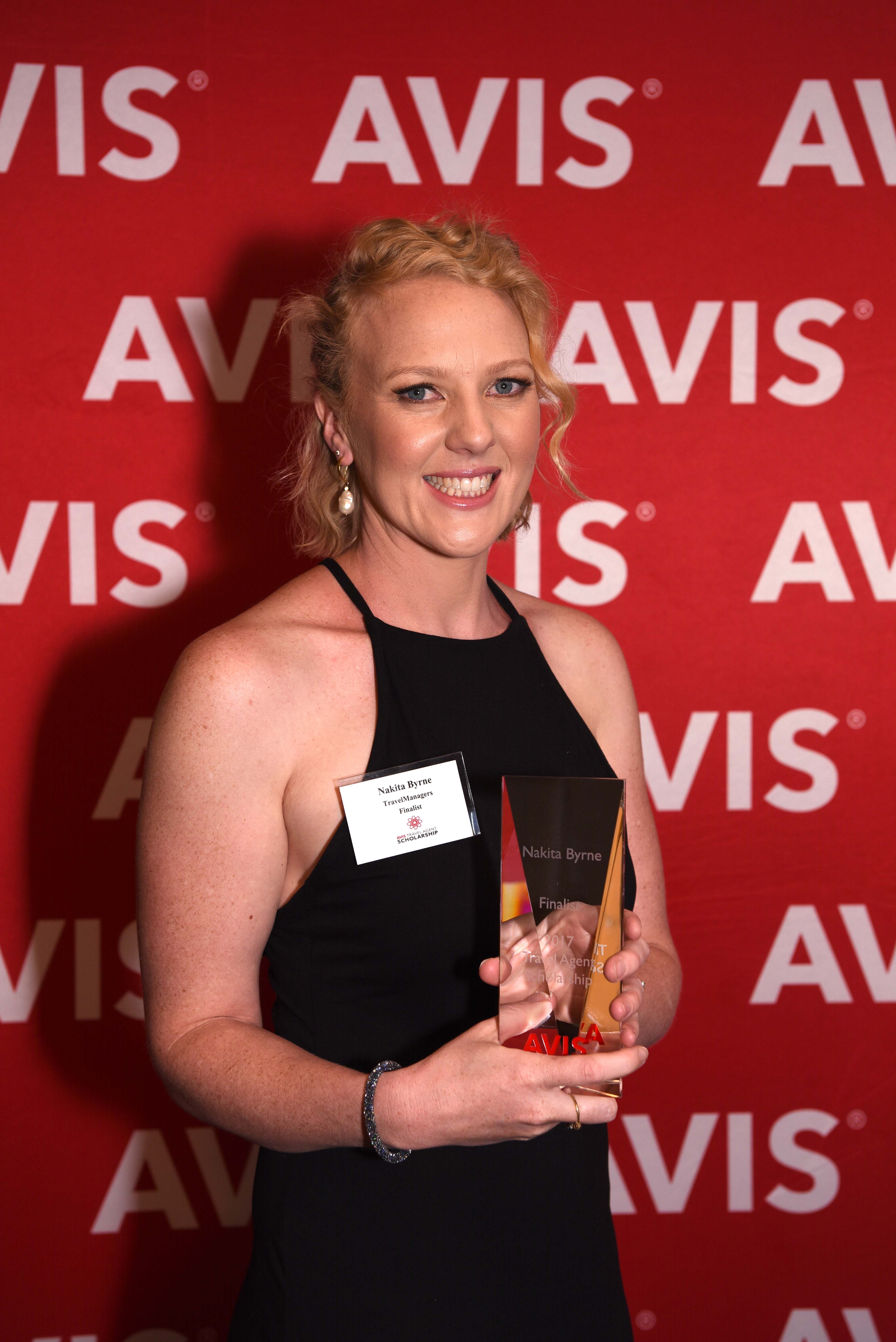 PTM Avis Scholarship Award Win Milestone for Home-Based Travel Professionals
Personal travel manager (PTM) Nakita Byrne has more than one reason to celebrate after being crowned this year's winner of the Avis Travel Agents Scholarship of Excellence in Sydney early this week.
Thirty-year-old Byrne representative for Wellington in New South Wales, was honoured to be nominated as a finalist, and completely surprised and humbled by her award win.
"I had applied for the scholarship in previous years, so I felt blessed to being a finalist. It's an absolute privilege to be recognised in this way.  To be honest, winning was a complete surprise as I knew I was up against some extremely strong and accomplished competition. I am grateful to have worked with some inspiring people in travel over the last 13 years who have all helped me get to where I am today. Honestly, I'm blown away. This award means so much to me."
Byrne pays tribute to TravelManagers and her colleagues including PTM Kim Mason, representative for Cronulla in Sydney who was also a finalist.
"My last three years as a TravelManagers' PTM has been my most rewarding.  My greatest reward is planning an incredible holiday for my clients and with two children under three years, being able to work in an industry that I love that also affords me flexibility and work-life balance really is the icing on the cake. My congratulations to all the other finalists, in particular my colleague Kim who is as passionate about travel and providing exceptional customer service as I am."
For TravelManagers, the 21st year of Avis Travel Agents Scholarship of Excellence will be one for the history books. As Executive General Manager Michael Gazal explains, "It's a trio of firsts for TravelManagers."
"Nakita's win is significant as not only is this TravelManagers inaugural award win, we actually had fifty percent of the finalists with Kim Mason also in the running and for the first time all finalists were home-based travel professionals. We congratulate both Nakita and Kim on their significant achievements. They have embraced the home-based technology and they certainly deliver on the TravelManagers' promise of providing expert advice with exceptional and consistent customer service. It is this attention to detail that sets them apart from the rest of the industry."
Gazal sees Byrne's win and Mason's finalist nomination as further demonstrating TravelManagers growing dominance and commitment and strength of its PTM model.
"Last night was the 21st year of Avis Travel Agents Scholarship of Excellence and with 21 being a symbol of initiation into adulthood, it was fitting that for the very first time all finalists were home-based travel professionals. I really see this as a coming of age for TravelManagers home-based technology and with PTMs strong focus on individual customised travel planning and personalised service it really does seem to be the way of the future."
Traditionally only written entry submissions were eligible. Yet this year Avis allowed other forms of entries in addition to the written submission.
"Social media is a huge part of my business and keeping in touch with my clients so I jumped at the chance to present my initial qualifying presentation by video and highlighting the social media tools I use daily. It was a fun way to communicate my key messages and I had lots of fun doing it too," says Byrne.
For Byrne, this experience highlighted again how much she loves being part of the TravelManagers family.
"I have received so many congratulatory wishes from my fellow PTMs, it makes me realise how incredibly lucky I am to be a part of the TravelManagers family. We all genuinely care about each other's successes and you can't ask for more than that."
Byrne is looking forward to next year with excitement.
"To now have twelve months professional coaching with Polonious Resources is massive for my business. I'm from a small country town and opportunities like this, even to attend these big events such as Cruise 360 and the AFTA National don't come around often – and of course the overseas trip just tops it all off! I'm really excited for what this next year will bring!"