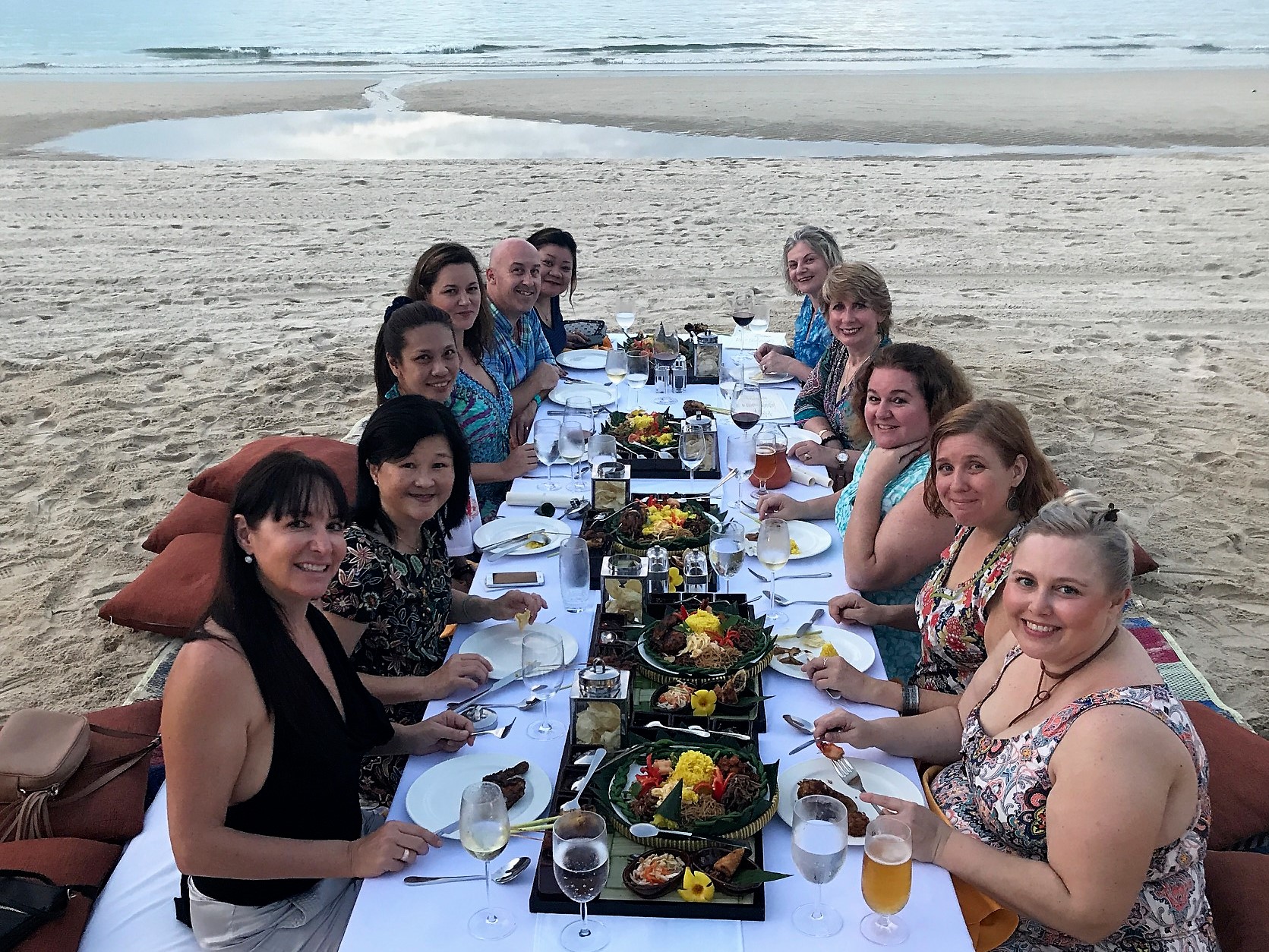 Personal Travel Managers Discover Foodie Delights of Singapore and Bintan
As part of the company's ongoing commitment to product knowledge through first-hand experience, TravelManagers, in conjunction with Viva Holidays and Singapore Airlines, recently sent eight personal travel managers (PTMs) on a six day famil to Singapore and Bintan.
On arrival in Singapore the group were taken to the Novotel Clarke Quay where they were to spend the next two nights, and after a free evening, they spent the next morning on a guided tour of some of the city's foodie gems.
Theresa Kwong, representative for Hughesdale VIC, cites the Foodelicious Tour as one of the highlights of the famil.
"We tasted traditional Malay food at Geylang Serai, and followed that with a laksa meal at Katong Laksa (which Gordon Ramsay lost to during his "Hawker Food challenge")," she explains.  "I will definitely recommend taking Tour East's Foodelicious Tour to any of my foodie clients, for the chance to just sit back, relax and be taken to various eateries for delicious and traditional local cuisine."
Erin Beckford, representative for Anna Bay NSW, had previously only experienced Singapore as a stopover point, and found that the city far exceeded her expectations as a destination in its own right, singling out Gardens by the Bay and Marina Bay Sands as particular must-see highlights.
"A Singapore Foodies Tour is also a must, to immerse yourself in the local food culture that sets Singapore apart from other Asian destinations," she says.  "There is a plethora of amazing restaurants and eateries, although it was useful to discover that food and beverages in Singapore are quite a lot more expensive than many of its neighbours."
The following day the group were transferred to Indonesia's Bintan Island by ferry, an experience which they describe as having been both useful to experience and surprisingly hassle-free.
"It was great to experience the ferry terminal and ferry to Bintan, as it has given me the confidence to reassure clients who are concerned about the procedure being difficult or stressful.  Everything went smoothly, the air-con worked well and the quality of seats on-board the ferry was good," says Debbie Bean, who is representative for Tarneit VIC.  "The journey only lasted 45 minutes and we were settled at the resort in time for a yummy Indonesian barbecue lunch!", she adds.
On arrival in Bintan, Bean and her colleagues were impressed by the beauty of the destination and by the quality of both the accommodation and the service they received there.
"It was just divine," she remembers.  "We were treated like kings and queens, with all the staff going out of their way to help us without being intrusive. If you didn't want to indulge in the plunge pool on your balcony, the infinity pool was equally fabulous."
As well as sampling some of Bintan's top eateries, the group had the opportunity to inspect several resorts, a beach club and the newly returfed Laguna Golf Course and Club.  Early morning yoga and an afternoon of kayaking and windsurfing were also offered for those who were not content to spent their free time poolside.
On their second night in Bintan, the group were treated to dinner at Banyan Tree Bintan's signature restaurant, Kelong, which is a traditional fishing house that is built on stilts out over the water and serves fresh local seafood in a spectacular setting.
Continuing with the food-lovers' theme which was present throughout the itinerary, the group's time in Bintan concluded with a cooking class where they learned to make light Indonesian food such as chicken on lemongrass skewers, vegetable rolls and salad.
All of the famil participants said that it was extremely useful to have experienced both Singapore and Bintan first hand, agreeing that both destinations have something to offer everyone.
"Whether it is a couple travelling joining a cruise in Singapore or having a romantic break in Bintan, a traveller enjoying a restful stopover en-route to Europe, or a family taking in all the fun of Universal Studios and Disneyland, I think all travellers can find something to enjoy here," says Beckford.
TravelManagers' Executive General Manager, Michael Gazal, believes the investment in participating in famils such as this one pays big dividends for the PTMs, who return to their business with first-hand knowledge of the destinations and fresh enthusiasm for recommending it to their clients.
"There's no substitute for seeing a destination for yourself," he explains, "especially in a destination like Singapore which is sometimes dismissed as a stepping stone on the way to Europe.  It's all about providing the best possible advice and service to their clients, and these PTMs have enhanced their product knowledge in the best possible way."