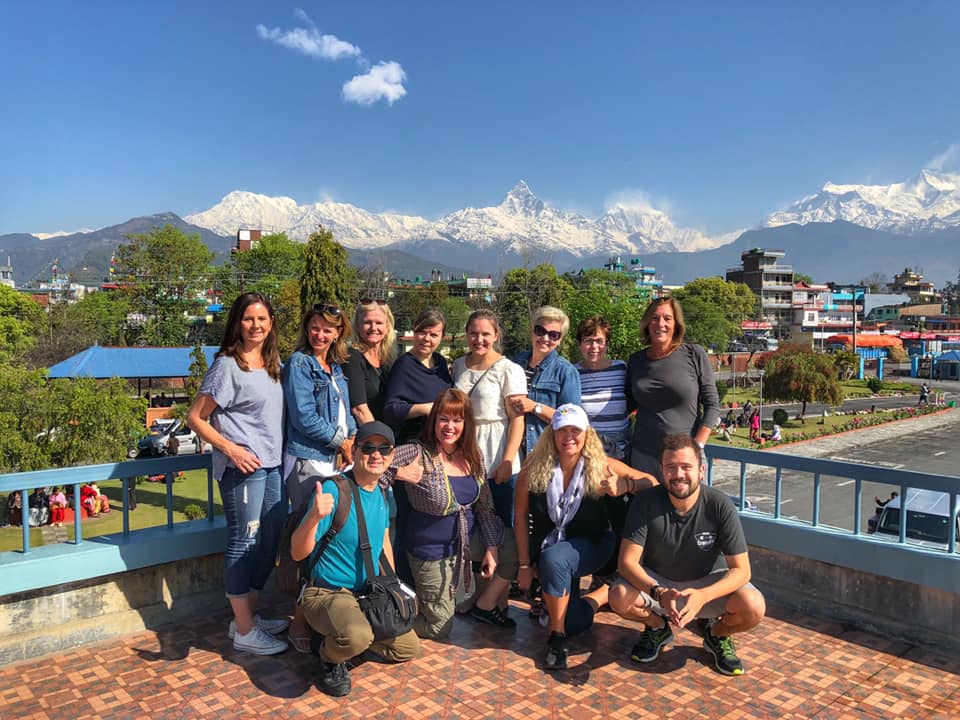 Wild Peaks and Warm People of Nepal Enchant Personal Travel Managers
The South Asian nation of Nepal is home to eight of the world's ten highest mountains, including Mount Everest, and its capital city, Kathmandu, is well known as the gateway to the Himalayas. Ten personal travel managers (PTMs) recently spent ten days exploring Nepal on an exclusive TravelManagers famil and discovered that this land-locked nation offers far more than just trekking and admiring those incredible mountains.
The itinerary, which was hosted by China Travel Services, saw the group spend time in Nepal's two largest cities, Kathmandu and Pokhara, as well as allowing two full days in Chitwan National Park.
The park, which was established in 1973 to preserve its unique ecosystem covers a pristine area of subtropical lowlands, is home to more than 43 species of mammals including rhinoceros, tiger, Gharial crocodile and elephant. For PTM Emily Turner, who is TravelManagers' representative for Warragul, VIC, it rates as one of the highlights of her time in Nepal.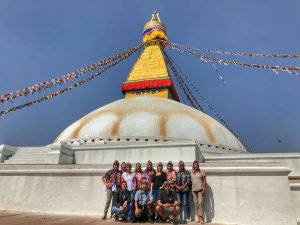 "It was amazing – the location was so tranquil and beautiful, and the opportunities for animal safaris and other animal encounters were excellent. Seeing a rhino up close was definitely a highlight, but I could visit again and again because each time you'd have a different experience."
After two magical days spent exploring the park by jeep safari and dugout canoe, and swimming with some of the park's resident elephants, the group travelled to Nepal's second largest city, Pokhara, which sits at the heart of a region renowned for its outstanding natural beauty.
Michelle Schulze, representative for Grays Point, NSW, explains that Pokhara is set on Phewa Lake – the second largest lake in Nepal – and is known as a gateway to the Annapurna mountain range: "it's also a base for lots of soft adventure activities, and feels like it's stuck in the 60s, with a laid-back, hippy vibe."
On their first morning in Pokhara, the group had an early-morning drive to the nearby hill station of Sarangkot, from which they were able to enjoy the incredible views of the surrounding valley and sunrise on the peaks of the Annapurna range.
"The views of the snow-capped Himalayas were amazing, but it's good to know that Pokhara has a lot to offer," Schulze adds. "From paragliding and ziplining to rafting and mountain biking, it's a great place to spend a few days".
Back in Kathmandu, the famil participants had time to explore the city, taking in sights such as Bhaktapur Durbar Square, considered one of its most charming architectural showpieces, and Pottery Square, which is renowned for its traditional pottery industry. They were also treated to one of the most unforgettable experiences of their time in Nepal: a guided scenic flight over Mt Everest.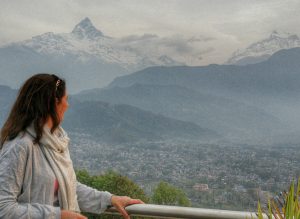 "The flight over Everest was the HUGE highlight of the trip," raves Turner. "It was absolutely amazing, and a dream come true – something I never thought I would be able to experience."
The famil concluded with time in the Chinese city of Chengdu, where Christie Gowan, representative for Paddington, QLD, says the group had time to visit a panda breeding centre prior to their flight back to Australia.
"Spending a few hours with the pandas was incredible," she reports. "The Research Centre is so well set up and they're doing great work to ensure the preservation of these wonderful animals."
Turner says her perception of Nepal as a destination has been altered following her time there – where previously she thought of it as suitable only for serious climbers and trekkers, she now understands that it has much more to offer.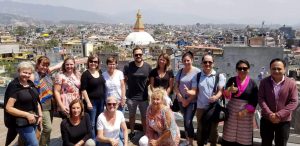 "I hadn't had much experience with Nepal before going on this trip, so having now covered some of the most popular areas to visit, I feel a lot more confident in selling it. It's such an amazing destination, with something for everyone, and I would love to go back again."
It's a sentiment that is echoed by her colleagues, including Schulze, who says she is already planning a return visit, next time escorting a group of women along with one of her fellow PTMs, Julie Painter.
"I definitely will travel to Nepal again," agrees Kirsty McKenzie, representative for Normanhurst, NSW. "The culture, the scenery and the people are beautiful, and the food and shopping are good too! I would like to see more of the country next time, and even do a trek."