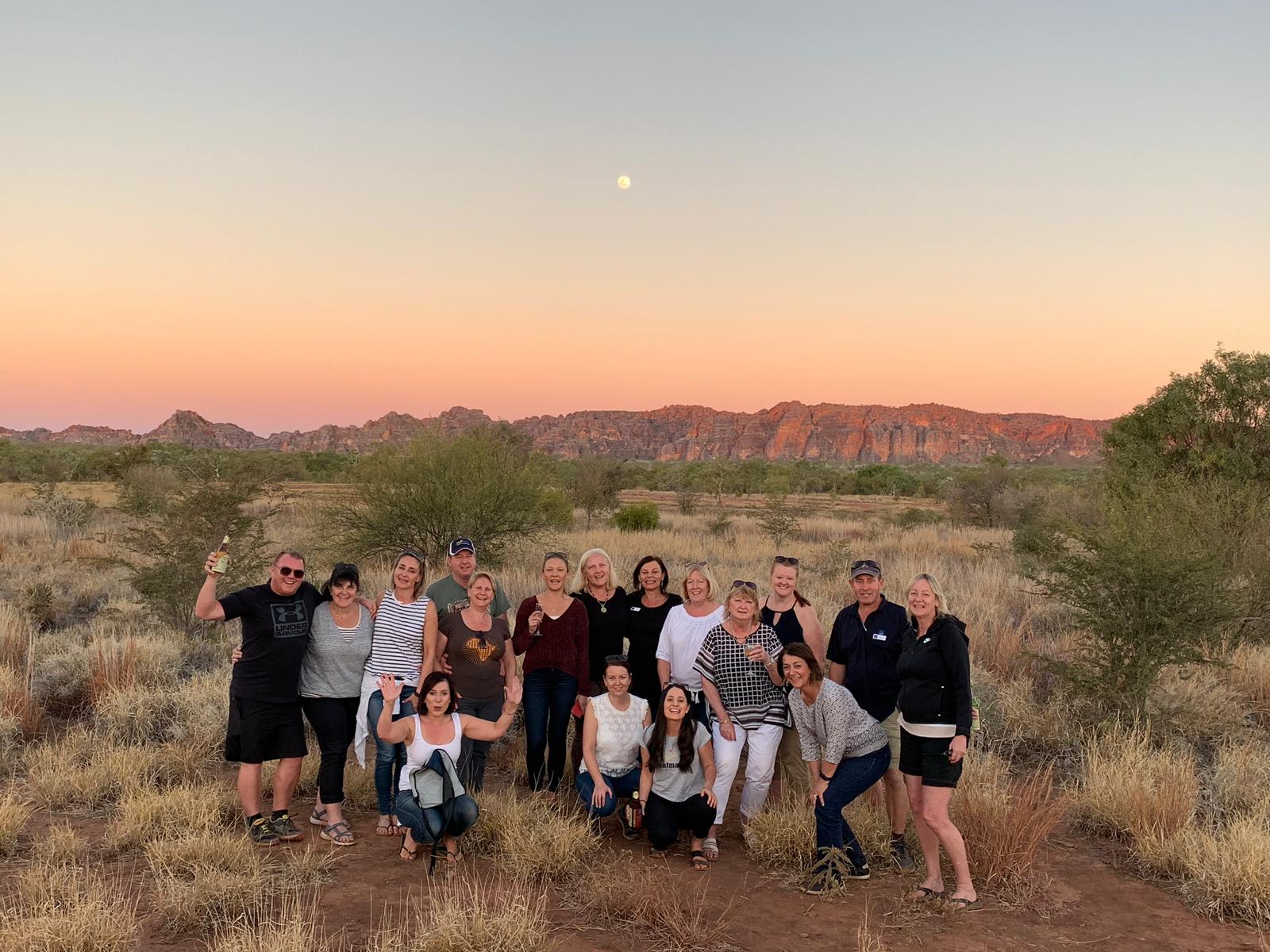 Kimberley Turns on the Charm for Personal Travel Managers
When the sun set on TravelManagers' annual National Conference in Perth recently, most of the attending personal travel managers (PTMs) were packing their bags, ready to head to their home towns and eager to put into practice all that they had learned over the preceding three days. For thirteen PTMs however, this would have to wait: first, a much-anticipated visit to the Kimberley region awaited.
The thirteen PTMs (two of them accompanied by their partners) were taking part in a five-day famil hosted by APT and offered as part of the pre- and post-conference programme. They were accompanied by APT's Danielle Tosin and Lisa Gair (Business Development Coordinator – Head Office Melbourne and Business Development Manager – NSW, respectively).
For most of the participants, it was their first visit to this stunning northern most region of Western Australia.
"The opportunity to experience such a remote and difficult-to-get-to destination with a fantastic tour company like APT has made the Kimberley really come to life for me," reports Nicole Ginger, who is TravelManagers' representative for Doncaster, VIC. "From hiking through Echidna Gorge to flying over the Bungle Bungles, the famil has increased my passion for the Australian Outback and will assist greatly me with future sales to this amazing part of Australia."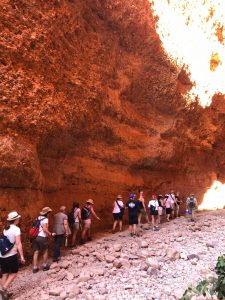 The famil group flew from Perth to Kununurra, the largest town in Western Australia north of Broome which provides easy access to the region. From here it was a short drive to Lake Argyle, a vast, man-made reservoir which was created by the construction of a dam on the Ord River.
"Taking a cruise along the Ord River provided us with the first of many chances to soak up the spectacular scenery, wildlife, flora and fauna," Ginger adds.
From Kununurra, the group travelled in one of APT's custom-designed four-wheel-drive coaches to their base in Purnululu National Park: a haven of luxury, tented cabins known as Bungle Bungle Wilderness Lodge. The lodge's location in the heart of the Park provides easy access to its most beloved sights, including Piccaninny Creek, Echidna Chasm and the famous, beehive-shaped domes of the Bungle Bungle Range.
"I hadn't realised how far from the coast the Bungle Bungles are," notes PTM Lee-Anne Talbot, representative for Bateau Bay, NSW. "It's a four to five-hour journey over roads that are quite rough in places, so it's great to be able to recommend that clients opt to fly in one direction."
However, despite (or rather, because of) the rugged and remote setting, Talbot describes her time in the Kimberley as "a wonderful, bucket list experience."
"It was a once-in-a-lifetime adventure that was topped off by an amazing, 42-minute helicopter flight over the Bungle Bungle Ranges – incredible views and a great perspective of how vast this region is."
After a farewell open-air dinner and a final spectacular sunset, the group of PTMs flew back to Kununurra and onward to their home cities, equipped with a first-hand understanding of how to ensure their clients would enjoy spending time in this region.
"Adding helpful items to their packing list, such as bug spray, warm clothes and a beanie for cooler evenings, hiking sticks to assist with navigating dry creek beds and other uneven surfaces: these are all the finer details that will greatly enhance their enjoyment," Ginger explains.
"It was definitely more physical and more remote than I was expecting, and requires a medium level of fitness and mobility in order to fully enjoy the sights," notes Claire Crosby, representative for Parkdale, VIC. "We did lots of walking amid amazing scenery and I've love to return one day as I feel I've still only seen a small part of this vast wilderness area."