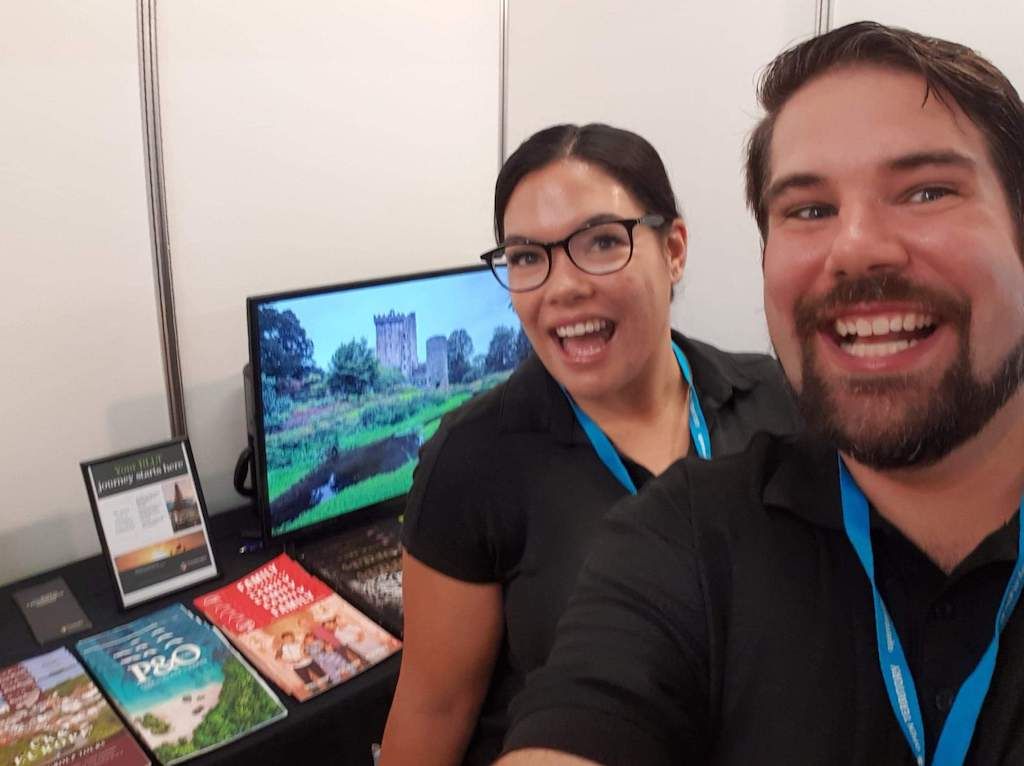 TravelManagers Has The Northern Territory Covered
PUBLISHED: ETBNews, E-global Travel Media, Travel Weekly
It's a long journey in more ways than one from running food and wine tours in Tasmania to setting up as a personal travel manager (PTMs) in Darwin. But that's exactly what one of TravelManagers' newest members has done, leaving the cellar door behind and bringing with him his passion for travel.
Tom Garnham joined TravelManagers in February this year, and as representative for Tiwi has become the company's fourth Northern Territory-based PTM, with two more having joined since.
"I had already made the transition into selling travel, working in a retail outlet for four years," Garnham explains, "but I was looking for a better work/life balance than what it could give me, as well as a better pay structure. I wanted to be able to give my clients the attention they deserved, rather than the limited attention available in a busy retail environment."
Garnham says the TravelManagers model has delivered everything he was looking for, with the added bonus of having fellow PTMs to provide support, encouragement and plenty of fun. He works particularly closely with fellow Darwin, PTM Cara Gardner, who joined TravelManagers two months before him.
"We will meet up once a week and have a working lunch. Sometimes we work on our own things; sometimes we will be working on our marketing plan. We will plan the different markets and expos we go to together, what media we might want to advertise in and develop other strategies we might want to explore. Having a collaborative relationship means we can bounce ideas off each other," he explains.
Gardner is TravelManagers' representative for the City of Palmerston. She worked in the travel industry for nine years both in Darwin and in New Zealand, before joining TravelManagers and says the move was motivated by a desire to have less stress and more control of her working hours.
"I have had a fabulous career and have been lucky enough to travel to some amazing places over the years, and although I wanted to stay in the industry, I wanted the flexibility to travel more," she explains. "TravelManagers fit the bill perfectly."
Garnham and Gardner were fortunate to join another PTM who was already established in Darwin when they joined TravelManagers: Lisa Malnar had made a similar career change six months previously, and says rather than being threatened by their arrival, she was delighted to have two new colleagues in her part of the world.
"We all have different goals for our businesses and different areas of expertise, which is fabulous because we can share ideas and recommendations – especially with destinations or experiences that we are less familiar with," she explains. "We all want to see each other succeed so there isn't any feeling of competition amongst us."
All three PTMs agree that the support provided by National Partnership Office (NPO) and fellow PTMs throughout Australia have helped immensely in building successful businesses.
"From the first day at induction, I was blown away at how everyone at NPO immediately makes you feel like you are part of a family," Malnar says. "Every department is a wealth of information and support."
"I also love that anytime I get an obscure request from a client that I have no clue where to begin, I simply post on our group page and dozens of PTMs are willing to share their knowledge. This to me is one of the most invaluable benefits of being a PTM," she adds.
Garnham says one of the highlights of his first year was attending the company's annual national conference in Perth in August, explaining that he particularly enjoyed meeting fellow PTMs from throughout the TravelManagers network.
"The trade show was a great way to get to know suppliers that I hadn't worked a lot with previously, and I've already had great success with them. It was a great opportunity for a first-year PTM, and I'm already looking forward to Hamilton Island next year!"
TravelManagers' Executive General Manager Michael Gazal notes that there are now six PTMs operating within Northern Territory – five in and around Darwin and one in Alice Springs.
"We have the systems and support in place to make it easy to work with clients anywhere and from anywhere – wherever PTMs have internet access, it's business without interruption."
"I love the flexibility that comes from being a personal travel manager," Garnham agrees. "So long as I have an internet connection, I can be working – I could be in the backyard, on the beach or in a villa in Bali."
He says enjoyment of a more flexibility working environment is also a big plus for his clients: "they love that they don't have to drag themselves to a bricks and mortar store on their lunch break, because I can fit in with their hours – not the other way around!"
When asked what they would say to other travel professionals contemplating a move to TravelManagers, all three are in consensus, with Gardner offering the following advice: "Starting your own business with TravelManagers is not as daunting as it seems. Give the Business Partnership Manager (BPM) from your area a call and see what happens – making the move is the best thing I have done for my work life and personal life!"