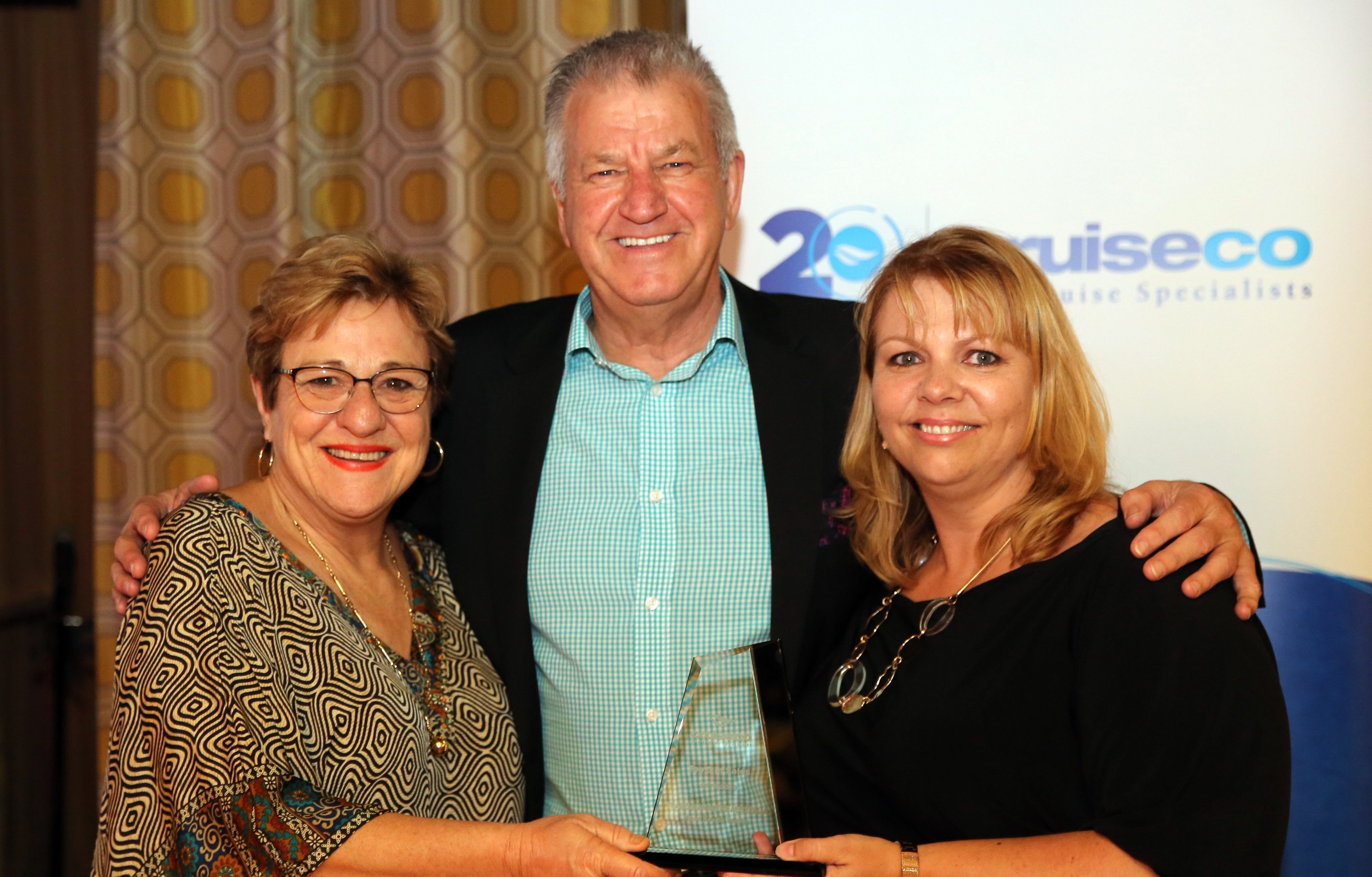 Personal Travel Manager's Third Consecutive Win with Cruiseco for TravelManagers
Cruiseco's annual conference was held aboard Royal Caribbean International's Voyager of the Seas during a cruise from Sydney to Hobart and Melbourne earlier this year. One of the highlights of the seven-day event was an Awards Night at which TravelManagers picked up several major awards.
The home-based travel advisor brand is going from strength to strength in the cruise sector, having picked up several awards already this year. To these, they have now added Cruiseco's Top 5 in Sales for 2019 – the sixth consecutive year that they have achieved this milestone.
According to Executive General Manager, Michael Gazal, TravelManagers' ongoing success in cruise sales is credit to its 600-plus personal travel managers (PTMs), who are passionate about growing their individual cruise businesses.
"Cruiseco is the Southern Hemisphere's largest and broadest distributor of cruise product,"Michael notes, "so achieving consistently excellent results with Cruiseco is a very satisfying outcome from the effort put in by our PTMs and the team at the National Partnership Office."
The success of one of those PTMs was recognised on an individual basis, with Terrigal NSW-based Angharad O'Malley winning Top Seller of the Year for the third year running. The award was accepted in Angharad's absence by TravelManagers' NPO Cruise Support, Leeanne Freeman.
A number of other PTMs represented TravelManagers at the Cruiseco conference and were happy to celebrate Angharad's success on her behalf, especially when a third award was added to the total prize haul: that of Top Seller for RCI via Cruiseco.
The Awards Night was just one component of a week-long itinerary which also included a day-long cruise supplier Exhibition Day in Melbourne and a variety of activities both on and off the ship, before concluding back in Sydney.
"Participants were able to choose from a variety of sessions designed to enhance their cruise businesses and enjoy time with their colleagues," Michael reports. "From taking part in a digital marketing workshop to testing their sense of rhythm in a Latin dance class, there's never a dull moment at a Cruiseco conference!"
With a selection of new trophies to add to the shelf, Michael says TravelManagers is optimistic about the year ahead.
"Despite the obvious challenges faced by the travel industry with the current Coronavirus situation, we have achieved a strong start to 2020 and we are looking forward to building on last year's successes."