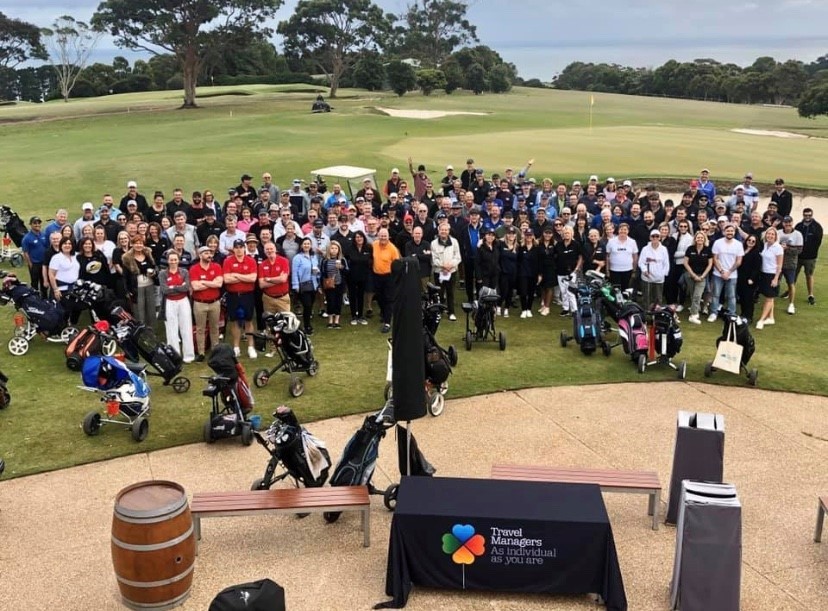 TravelManagers' Golf Day Adds $25,000 to Fight Against Cancer
For the sixth consecutive year, representatives from Australia's travel industry recently spent a day in early March enjoying a round of golf at Victoria's scenic Mornington Golf Club while raising tens of thousands of dollars for cancer research.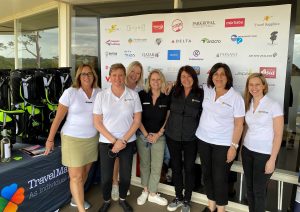 The golf day was once again organised by TravelManagers' Business Partnership Manager (BPM) for Victoria and Tasmania, Kellie Browning. Supported by her husband, Stuart, and a team of enthusiastic volunteers, Browning has spent countless hours on the logistics for the big day, sourcing sponsors and prizes, arranging sustenance for the hungry golfers and otherwise ensuring that the event was both enjoyable and financially worthwhile.
"Cancer affects everyone at some point in their life, whether directly or through someone they love," Browning explains. "That's why Stuart and I have been determined make a difference in some small way."
This year, that 'small' contribution amounted to $25,000 for Love Your Sister, the cancer research charity that was founded by Samuel Johnson and his much-loved, late sister, Connie: the organisation has been the recipient of funds raised by TravelManagers' annual golf day for the past four years. Although Johnson wasn't able to attend the event this year, he was delighted with the result.
"Kellie Browning has been the driving force behind TravelManagers' fundraising efforts, helping to raise Love Your Sister a total of over $75,000 for cancer research. This kind of money means the world to our researchers and I thank TravelManagers for their true commitment and extend my love to them at this particularly challenging time," Johnson acknowledges.
Funds on the day were raised by collecting entry fees from the tournament's 128 golfers (comprising personal travel managers (PTMs), clients and suppliers), as well as from generous sponsorships and tempting raffle prizes from partners.
"We are very fortunate to work with partners who are overwhelmingly generous in their support of our event," Kellie acknowledges. "Prizes this year included a holiday for two to London with return economy class airfares thanks to Royal Brunei Airways, a Golden Triangle tour to India for two people thanks to Travel Sapphire, and a luxurious six-night Bali stay from Hoot Holidays."
In total there were 18 raffle prizes on offer, with further prizes up for grabs on the golf course. Drinks stations were also sponsored by various industry partners, many of whom have supported the event since its inception in 2015.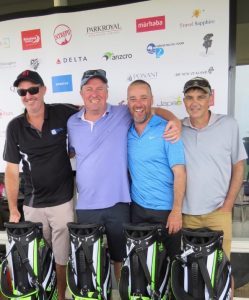 Royal Brunei Airlines Sales Executive, Leah Keenan, says the airline is proud to have been a sponsor of the TravelManagers golf day every year since it began, and says she has personally enjoyed watching the event grow. She describes the golf tournament as "an awesome day which brings the industry together for some fun and the chance to network while supporting a great cause."
"The Love Your Sister charity is one that I think everyone is happy to embrace and support. Just as we are all currently experiencing a world under quarantine, we all know someone who has been touched by cancer," she continues. "The money raised over the past years has been truly heart-warming and I always look forward to hearing the final tally. Kudos to Kellie and the amazing TravelManagers team – I'm sure I speak for everyone during this time in saying, 'we can't wait for the next one!'"
Many of this year's golfers were also longstanding supporters of the tournament, including PTM Mark Devers, who is TravelManagers' representative at Gembrook, Victoria. He describes the golf day as his favourite event to attend each year.
"I love getting together with fellow PTMs, clients, industry partners and friends for a fun day in a beautiful setting each year," he says. "As a bonus, we are supporting an amazing charity which genuinely appreciates our efforts. The ongoing success of the day really shows the power and commitment of the whole TravelManagers team nationwide, and I feel very proud to have been involved from day one."
"For the past three years I have been part of the TravelManagers Golf Day, and this year I had five teams of clients play, two of the teams for the third time!" adds Joanne Haines, who is TravelManagers' representative for Berwick, Victoria. "It's a great way for me and my clients to come together in a relaxed, very fun way, and support a wonderful charity."
TravelManagers' Executive General Manager, Michael Gazal, says the company's regular engagement with a variety of charitable causes all over Australia is "an integral part of the TravelManagers family's culture."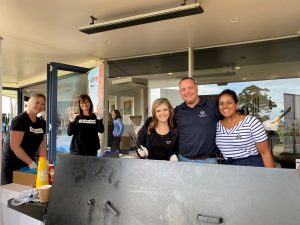 "Huge thanks in this case must go to Kellie, who is supported by Stuart and who really puts her heart and soul into the organisation of the day," Michael adds. "The majority of the work is done in her own time, and the feedback received from PTMs, clients and suppliers reflects their immense respect for her efforts."
Kellie says record attendance resulted in a full field of 32 teams, with players coming from as far away as Caloundra in Queensland and Randwick in New South Wales.
"We were treated to lovely, settled weather – in fact, the temperature was below 40 degrees for the first time in six years, which made it much more comfortable out on the course! Everyone enjoyed the day, and with the incoming storm of COVID-19, it was great to see so many happy faces."