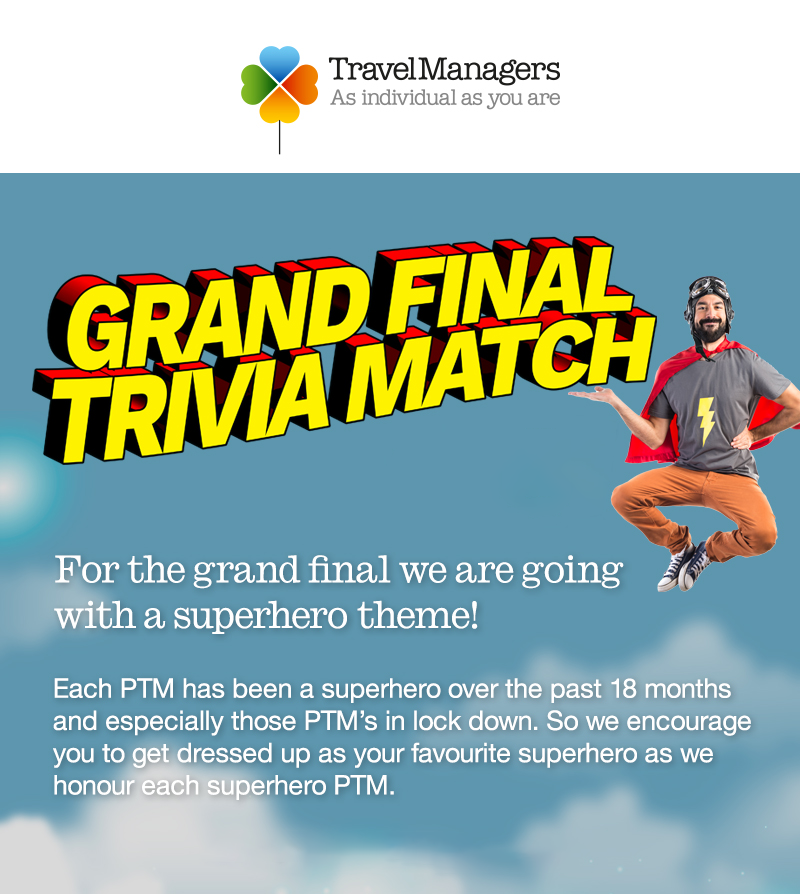 Superhero Personal Travel Managers Assemble for Epic Face-off
Featured photo: TravelManagers' 2nd Annual National Trivia Grand Final united superhero PTMs from all over the country via Zoom for an afternoon of serious fun and inter-state rivalry.
TravelManagers' second annual 'State of Origin' trivia championship has concluded, with new state and individual champions emerging to carry away the title for 2021.
The theme for this year's event was 'Superheroes', which TravelManagers' Executive General Manager, Michael Gazal, describes as an acknowledgement of the company's exceptional personal travel managers (PTMs) – especially those who were still coping with lockdowns.
"Thinking about the characteristics of your average superhero – extraordinary ability, great courage and a mission to serve – I think every member of the TravelManagers family has been a superhero over the last 18 months."
The event, which was the culmination of a series of state vs state battles over the past two months over Zoom, was organised by TravelManagers' Business Partnership Manager (BPM) for northern New South Wales, southern Queensland and the Northern Territory, Noree Kahika.
After two preliminary rounds, the leading contender was a Queensland/Northern Territory combination, with NSW/ACT hot on their heels. On the afternoon of the Grand Final, the QLD/NT sealed their championship win thanks in no small part to an outstanding performance by Queensland's self-described "trivia junkie", Christie Gowan, who is TravelManagers' representative for Paddington, QLD.