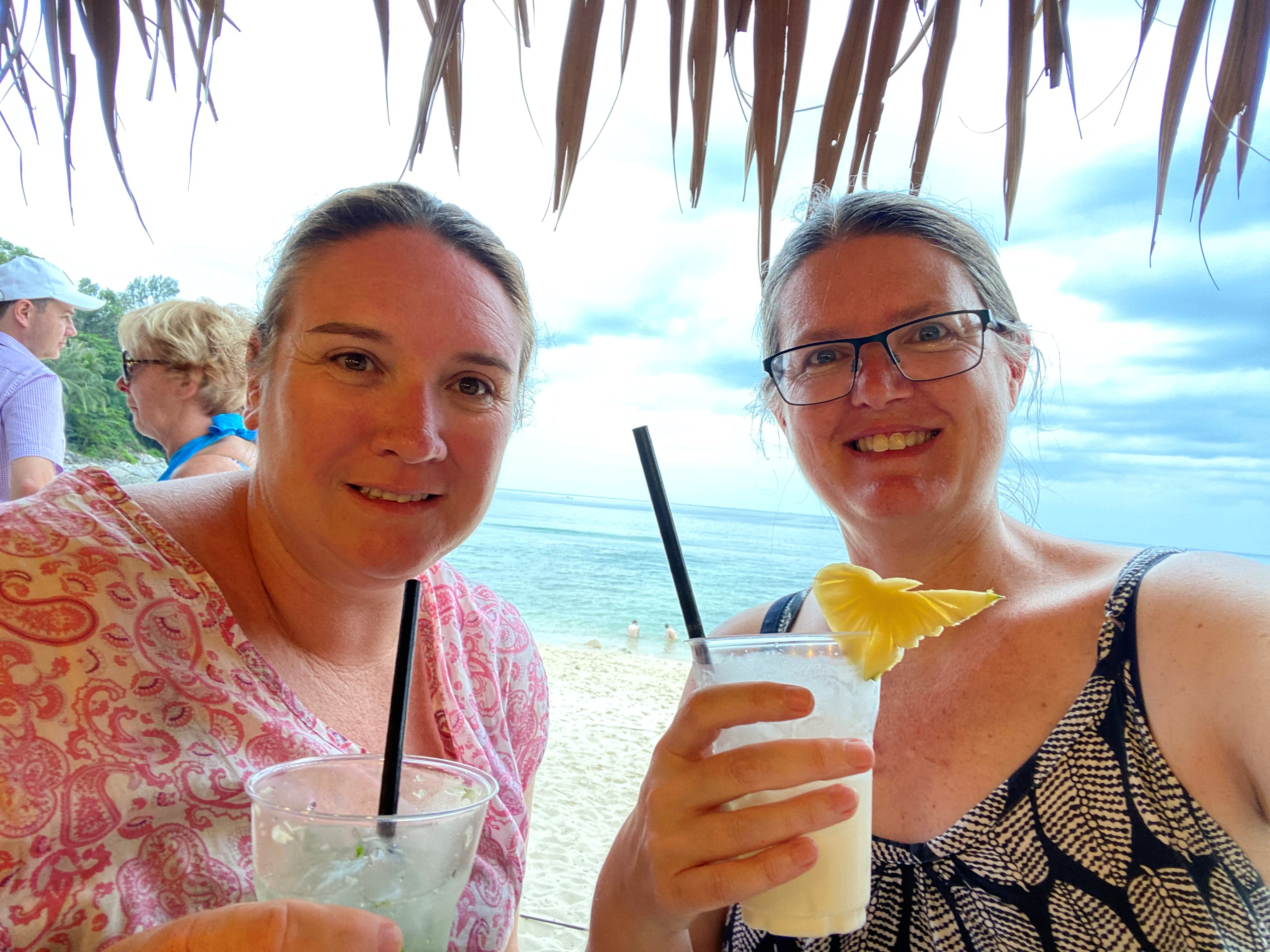 Land of Smiles Delivers Smiles Aplenty for Returning Personal Travel Managers
As international destinations gradually ease the travel restrictions that have been in place since the beginning of the pandemic, and with the Australian borders, other than Western Australia, now wide open for fully vaccinated citizens, many Australians are beginning to dust off their international travel plans. TravelManagers says many of its personal travel managers (PTMs) are already travelling to their favourite offshore destinations, eager to gauge the impact of the past two years and ensure that they are ready to receive the coming wave of visitors.
Annette Fyfe, who is TravelManagers' representative for Victoria Point, QLD, has just spent three weeks with her family in Phuket and Khao Lak. Her "Thai the Knot Weddings" destination weddings business has been largely on hold since COVID hit, and she says her reunion with Thai suppliers and friends was both joyful and emotional.
"It's hard for me to put into words just how amazing our trip was," she reports. "After the events of the last two years, I wasn't prepared for how emotional it would be to be back in a place I love and to catch up with my suppliers. There were a few tears of pure happiness shed, just to be in another country and enjoy some semblance of normal life."
Fyfe admits to feeling a little anxiety whilst keeping abreast of the ever-changing rules and regulations that now apply to international travel, but notes that the actual journey was very smooth and straightforward.
"I was surprised by how streamlined it was on arrival in Phuket and how quickly the PCR test results were returned, after which we were free to enjoy ourselves."
Fellow PTM Debbie Bean, representative for Tarneit, VIC also just returned from a holiday in Thailand: she and her husband divided their two-week stay between Bangkok, Hua Hin, Krabi and Phuket, and says safety standards throughout their visit were excellent.
'Naturally, we were expected to wear a mask on the plane, on entering restaurants and in shopping centres; for our private transfers there was a hard plastic screen between the front and back seats," she reports. "On arrival in Bangkok we were taken off to a separate room to be tested and then to another separate room to check-in. There were temperature checks every time we went to a restaurant or shopping centre, and it almost felt like business as usual!"
Jo Patton, who is TravelManagers' representative for Ulladulla, NSW, enjoyed ten nights in Phuket with her partner, says she was pleasantly surprised that although some local businesses and tours were not yet open, there was still plenty to see, do and experience.
"Without the usual crowds, it was a very relaxing holiday. For me, the highlight was spending my birthday on a scuba diving day trip – the first time in decades that I'd been diving, and the first time ever with my partner!"
All three PTMs declared themselves more than satisfied with the health measures in place, with mask use and hand sanitising stations widespread among tourists and locals alike.
"The main challenge was ensuring that we kept ourselves up to date about the requirements for travel in the new COVID world and that the requirements we had already met were still valid," Patton reports. "I had printed copies of all of my paperwork so the airports were a breeze, and check-in and security were actually significantly quicker than pre-COVID as there were so few people in the airports."
TravelManagers' Executive General Manager, Michael Gazal believes the demand for an experienced personal travel manager with access to individual country's travel rules, testing requirements and specific airline, cruise and touring regulations who can assist clients in understanding the tangle of ever-changing post-COVID travel regulations is certain to be high as the world reopens to international travel.
"PTMs have the passion and experience to ensure sure their clients have all the information they need, plus the expertise and contacts to provide round-the-clock assistance should plans change during the course of the holiday. In this post-COVID era, it will be more important than ever to have the support and proficiency that only an experienced, knowledgeable, travel professional can provide, so that customers can just relax and enjoy their trip."
Fyfe says the news that Thailand is open and ready for visitors was welcomed by her clients, many of whom were forced to postpone their destination weddings when COVID hit.
"I made a lot of videos during my visit to show clients what Thailand is like today. Some couples are already rescheduling their Thailand weddings for later this year and I couldn't be more excited – I love what I do and I can't wait to get my business back up and running."
Social media has proven to be a powerful tool for Bean as well, who says her regular posts resulted in one client describing her as "an inspiration."
"Another client said they wouldn't have even considered travelling overseas but having followed my experiences online had made it all seem possible."