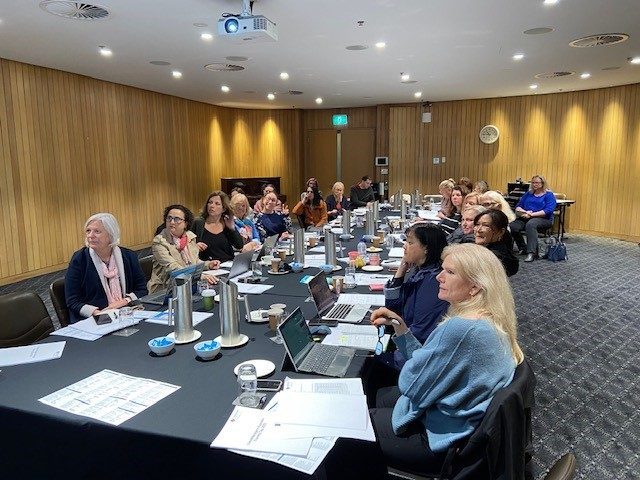 Training Sessions Deliver Post-Covid Kickstart for Personal Travel Managers
Featured photo: PTMs travelled up to 900 kilometres to attend a productive day of systems and training in Sydney last month. (L-R) Cathy Moir, Julianne Gazal-Risk, Zoe Hemming, Petra Becker, Danielle Goncalves, Mary Anderson, Lyn Tyson, Nic Loisel, Joanne Miller, Vikki Hope, Vikki Wood, Jennifer Jones, Lana Kanchik, Annalize Troost, Erin Beckford, Alma Araullo, Teresa Reyes & Kirsty McKenzie
A total of forty-five personal travel managers (PTMs) attended TravelManagers' most recent training sessions, which were held in Perth and Sydney during May. The two full-day sessions, which were run by TravelManagers' Operations Manager, Troy Coelho, included systems updates, fares training and an in-depth look at SigNet (Signature Travel Network's intranet).
TravelManagers has been in partnership with Signature Travel Network since the beginning of 2022, with PTMs enthusiastically accessing the extensive programs and supplier connections that this agreement has provided. Regular training on products and systems are a key component of the partnership, which on this occasion included a deep dive into Signature's Hotel & Resort program and a chance to view marketing videos and images, and training webinars.
According to TravelManagers' Executive General Manager, Michael Gazal, one of the key aspects of its training days is an open forum in which PTMs are invited to share their own learnings and express any concerns or queries.
"Our training sessions are designed to ensure that PTMs feel at ease, with no questions deemed as silly," he explains. "As the topics were quite broad, PTMs from all levels of business engagement found the content relevant and useful for moving forward in a post-Covid world."
Such is the reputation of these training sessions, which took place at Sydney's Masonic Centre and Perth's DoubleTree by Hilton Waterfront, that PTMs travelled from far and wide to attend.
"The distances which PTMs are prepared to travel to attend these events is indicative of their perceived value," Gazal adds. "We had PTMs from as far away as Kalgoorlie and Albany attending the Perth training day, and one PTM, Kerstin Rheinlander, came all the way from Brisbane to attend the Sydney session."
To ensure that PTMs would receive maximum value from their attendance, the training days were designed to be packed with as much useful information as possible. As a result, Gazal says attendees were highly engaged and highly appreciative of both content and format.
PTM Zoe Hemming, who is based in Sydney's North Rocks, says it was a fabulous day in which she learned a lot. Along with Hemming, Gazal says the feedback from many of her fellow PTMs involved a strong theme of "it's good to be back".
"These training sessions are a terrific way for our PTMs to reconnect with colleagues and the National Partnership Office team while refreshing their systems and product knowledge, and form an essential part of their post-COVID restarts."