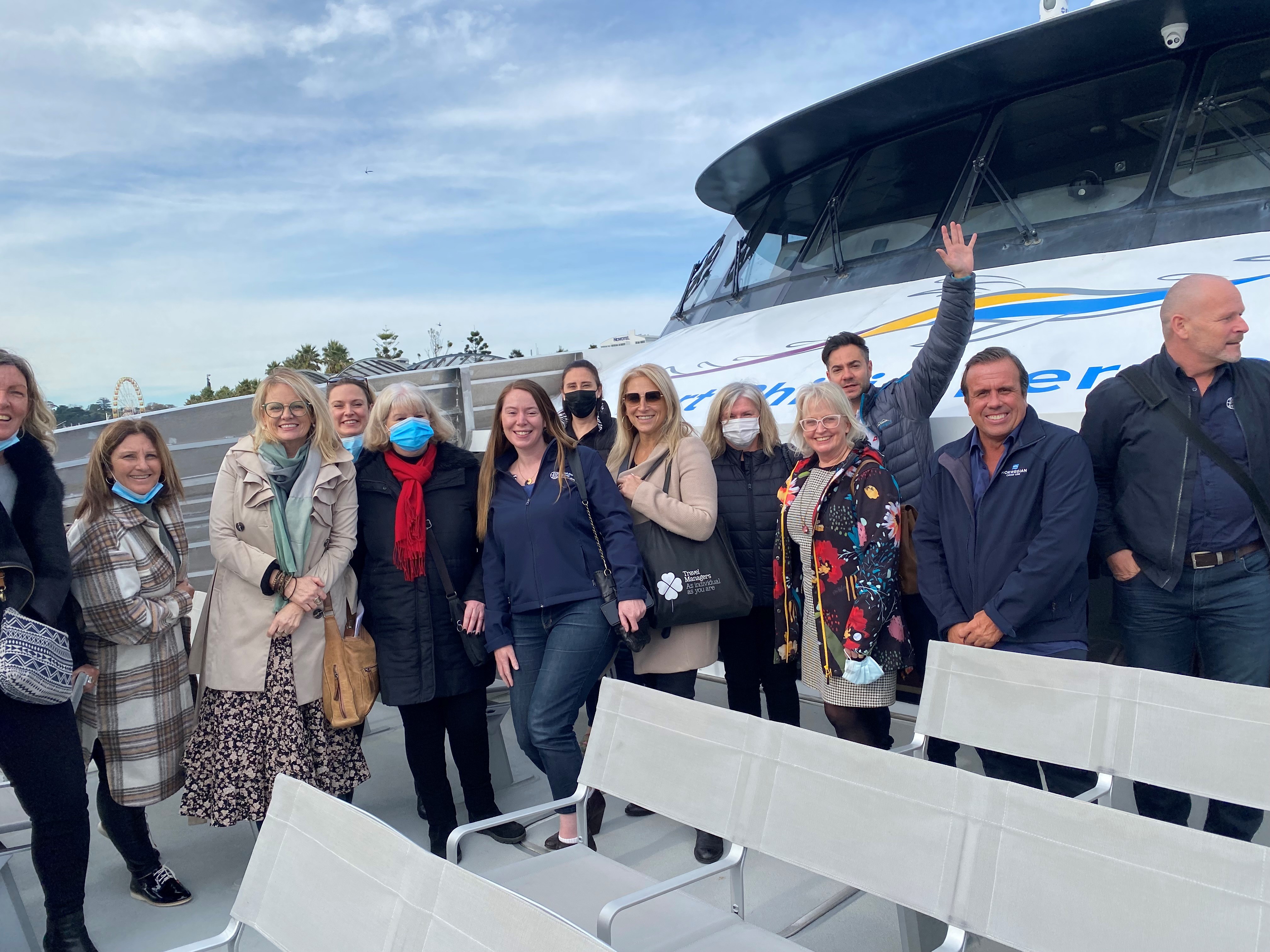 Triple Anniversary Celebration at TravelManagers' Lunch
Featured photo: A ninety-minute ferry journey from Melbourne to Geelong set a festive mood for 26 TravelManagers' PTMs and 15 partner suppliers. (L-R) PTM Cath Graham, PTM Kerrin Poupos, BPM Kellie Browning, Sarah Hosking (Globus family of brands), PTM Karen Doyle, Ingrid Berthelsen (Evolution Travel Collective), Rebecca Day (Stuba), PTM Penny Stansfield, PTM Carolyn Pitt, PTM Helen Rolton, Peter Lombardi (Lufthansa Group), James McCullogh (Norwegian Cruise Line) & Pete Rawley (Evolution Travel Collective).
A chance to catch up with supplier partners on the latest developments to their operations and product offerings provided Melbourne-based personal travel managers (PTMs) with the ideal reason to join a day trip to the coastal city of Geelong recently.
The event, the highlight of which was a three-course lunch at Geelong's waterfront Edge restaurant, was organised by TravelManagers Business Partnership Managers (BPMs), Kellie Browning and Despina Madden, and formed one of a series of get-togethers taking place around Australia as the travel brand gears up for the accelerating recovery of the international travel sector.
Fifteen supplier representatives joined 26 Victorian PTMs, along with the two BPMs, for a ferry ride from Melbourne to Geelong, where they enjoyed a relaxed, al fresco lunch while catching up with friends and colleagues.
TravelManagers' representative for Lilydale, VIC, Penny Mealin, was among those who attended, and says she appreciated the opportunity to reconnect with fellow PTMs, many of whom she had not seen in person for quite some time.
"It was a day of great food and conversation, connecting with friends and suppliers, and just generally having an awesome day – I feel very lucky to be part of this amazing group," she concludes.
Leah Keenan, Sales Executive for Royal Brunei, was among the supplier partners to attend, and says she enjoyed hearing from PTMs that business is rolling through the doors once again.
"I love how proactive TravelManagers is in arranging these catch ups, which allow suppliers to join in and cement the close relationships we have built over many years," she adds. "It was a fabulous day, and so good to finally be back doing what we love best."
The outing was also an opportunity to acknowledge and celebrate the work anniversaries of three attending PTMs, including Sue Callachor and Carolyn Pitt, who have each completed five years with TravelManagers, and Penny Meallin, who has reached the milestone of fifteen years.
TravelManagers' Executive General Manager, Michael Gazal, describes the networking activity as part of a program of ongoing activities which is intended to ensure PTMs are kept updated on both the post-COVID situation and current tourism offerings in a range of destination.
"International travel is experiencing a rapid recovery right now, which is an exciting development after a couple of tough years," he notes. "For our PTMs, one of their greatest strengths is their willingness to share their coalfaces experiences with their colleagues – it's our job to help make that happen."
"The NPO team is committed to providing a convivial environment in which supplier partners can update PTMs on latest developments, equipping them to respond comprehensively to customer enquiries and requests."