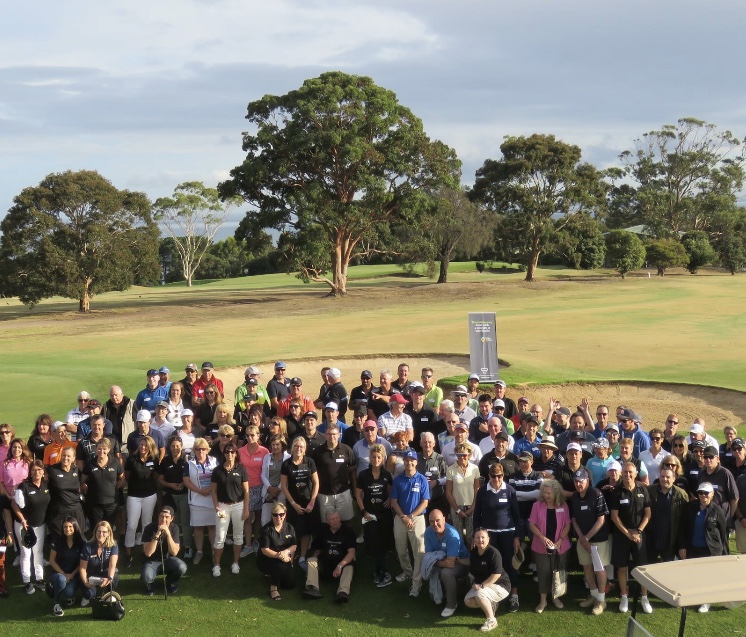 Cancer Charity the Winner at TravelManagers' Annual Golf Fundraiser
The morning of TravelManagers' Charity Golf Day dawned bright and sunny, bringing with it perfect conditions for its annual golf competition fundraising for the cancer charity, Love Your Sister.
The event, which has been held at Victoria's Mornington Golf Club every year since its inception four years ago, was organised by Kellie Browning, one of two Business Partnership Managers (BPMs) that are responsible for Victoria.
"We were lucky to once again receive incredible support for our big day," Kellie explains.  "We had a total of 150 personal travel managers (PTMs), National Partnership Office (NPO) staff, friends, family and industry partners taking part, whether by paying the $100 entry to play in the golf or by joining the amazing team of volunteers who helped out on the day."
Browning says when the event was first held four years ago, organisers were thrilled to have raised over $4000 for charity.
"Every year since then we've managed to outstrip the previous year in terms of money raised: this year was no exception," Kellie reveals with a smile.  "We are beyond thrilled that we managed to raise more than $16,000 for the Love Your Sister cancer charity."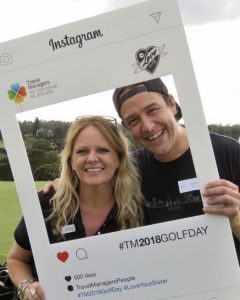 Love Your Sister describes itself as "a strong and proud village founded by brother-sister duo, Samuel and Connie Johnson… to vanquish cancer so our families can get on with bickering and laughing together. Here it is night, until cancer is cured… Science holds the key and … donations create freedom for our best researchers to explore their left-of-field ideas without subjecting them to the all-consuming grants cycle."
Love Your Sister co-founder, Samuel Johnson, joined one of the teams for the day, playing golf in a team with TravelManagers' Executive General Manager, Michael Gazal, APT's Scott Ellis and Gareth Phillips (husband of PTM Sinead Phillips).
The fundraising total was not the only record to be broken this year: a record number of players signed up to play an Ambrose round of 18 holes from a shotgun start, including Caloundra-based PTM Ken Simpson, who made the drive from Queensland for the fourth year running.  Ken was just one of many people who put in a huge effort to be part of the day.  TravelManagers' Chairman, Barry Mayo, was head chef on the barbecue, and a team of PTMs drove around in golf carts, filling up refreshments, selling raffle tickets and keeping the golfers sustained with sausages in bread.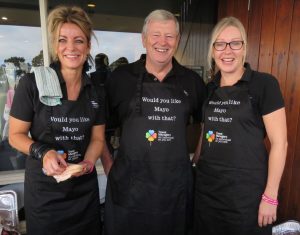 The teams of golfers were vying for an impressive range of major prizes, including four golf bags provided by Drummond Golf Frankston for first prize.  Michael Gazal says the generosity of partner suppliers also contributed in a big way to the success of the day.
"We had suppliers manning drinks stations that sold water, soft drinks, alcohol and raffle tickets, using the time to network with PTMs and their clients, and with all proceeds going to the charity,"
Local winery, Chirping Bird, was one of the many sponsors who ensured that golfers were kept well-fed and watered, driving around in golf carts offering wine tasting along with wine sales, with all proceeds again going to the charity.
"We also had a yummy breakfast of egg and bacon rolls sponsored by Air Calin, a barbecue lunch sponsored by Chimu Adventures and a Coffee On mobile coffee van, thanks to Driveaway Holidays," Kellie adds.
Drinks were sponsored by Trafalgar Tours, On the Go Tours, Back Road Touring, Air Canada, Globus Family of Brands, Cornerstone, Wendy Wu, Fiji Tourism and Anzcro, while Qantas Holidays, Amadeus and Grand Pacific Tours all sponsored holes.
"One of the most sought-after prizes was provided by Wild Earth Travel," says Kellie.  "They were once again offering a Melanesian Cruise for a hole in one, but we once again failed to find a winner for that one!"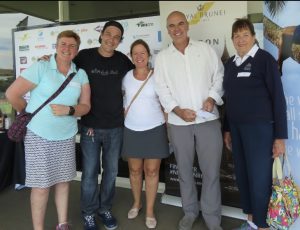 The first prize was won by a team comprising Fraser Tong, Kate Dancaster, Adam Maroske and Michael Stephenson, who were representing Parker Travel Collection, Qantas Holidays, Quicksilver Group and Royal Caribbean respectively, with second prize of four $50.00 gift vouchers and four Caribbean Cruise gift bags going to PTM Kirra Moon-Curry and her clients, Michelle Imlach, Patricia Randall and Tony Mills.
Tony Mills also won the major raffle prize: 2 return economy tickets to London from Royal Brunei Airlines, a five-day tour of Spain thanks to Tempo Holidays, and a Eurorail Pass from Rail Plus – so it was a very good day for him!
Other raffle prizes included accommodation for two at Outrigger Fiji Beach in an ocean view room with breakfast and two tickets to FIJI PGA golf, courtesy of Fiji Tourism, two economy tickets to any of the mainland state capitals from Virgin Airlines, two Quicksilver Outer Barrier Reef Tour Passes, two $250 travel vouchers from TravelManagers, one night's accommodation in Melbourne from Short Stay Apartments, a round of golf for four people including carts from Mornington Golf Club, and a gift bag from Love Your Sister.
There was a bit of a foodie theme to many of the prizes: Mornington restaurant, Merchant Lane, provided a $100 food and beverage voucher, On the Go Tours a hamper and Grand Pacific Tours a backpack goodie bag and a wheelie esky.  Allianz came through with a bottle of Mumm champagne, Insight Vacations a goodie bag and Chirping Bird Winery a bottle of Shiraz.
The ongoing support of so many suppliers is a key element in the ongoing success of the day.
"Garuda Airlines, Lufthansa Group, APT Tours, Amadeus, Allianz Global Assist, Qantas Holidays, Parker Travel Collection, Short Stay Apartments, Rail Plus, On the Go Tours, RCL Cruises LTD, RoomsXML, Ski Max, Insight Vacations, Driveaway Holidays, Quicksilver Cruises, Grand Pacific Tours, Cornerstone, Chimu Adventures: whether this was their first year or they've been with us right from the start, we are extremely thankful for their commitment to this very important cause."
Kellie adds that feedback from PTMs, their clients and suppliers alike has been overwhelmingly positive, with many already indicating their desire to return for the 2019 competition, for which planning has already begun.
"It's a really fun day, but it's also quite emotional: cancer has affected many of the people who attended, and they really felt happy that they were giving something back."